Ody Fellows has led a life dedicated to racing, and is still contributing to the sport at age 89.In a driving career that began at age 17 and spanned four decades, Ody was primarily involved in oval track competition, although he was active in motorcycle racing as well as various formula divisions in SCCA competition as well.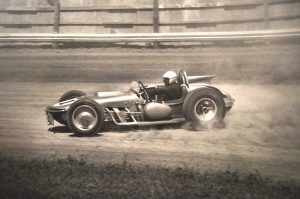 After getting his start at Lakeside Speedway in the early 1950's, Odyraced his way through the 1960's and 70's as one of the Denver area's most recognized drivers in sprint car, modified and midget divisions. Over the years, he drove for a multitude of owners that included some of the best in the business: John Roddy, Everitt Hogan, "Pop" Goodrich, Roger Mauro, Dean Dungan and Joe Giba (Gee-bah) in regional and national events. He is on record for finishing high in points order for many years at Englewood Speedway in both midget and modified divisions, as well as in national standings in USAC, BCRA, and IMCA competition.
Ody began his fabrication career in 1955 when he moved to California to work for Bill Devin, building fiberglass bodied sports cars with Roger Beck, Don Edmunds and Louis Unser, all of whom became well known race car builders. He was also introduced to Carrol Shelby and Phil Hill while driving for Devin in SCCA competition. As a master builder, he has since been recognized nationally for his skills in fabricating race cars for sprint car, midget, and road racing, including a complete Offenhauser-powered midget roadster for Colorado Motorsports Hall of Fame member Sam Rodriquez.
Ody was inducted into the BCRA Hall of Fame in 2007, and the National Midget Auto Racing Hall of Fame in Belleville, Kansas in 2014 in recognition of his driving record. In the racing community, Ody has continued to be the "go-to" guys for parts fabrication, race car repair or restoration. In celebration of a multitude of accomplishments accrued in a 70 year (and counting) racing career, Ody Fellows joined the Colorado Motorsports Hall of Fame in 2019!