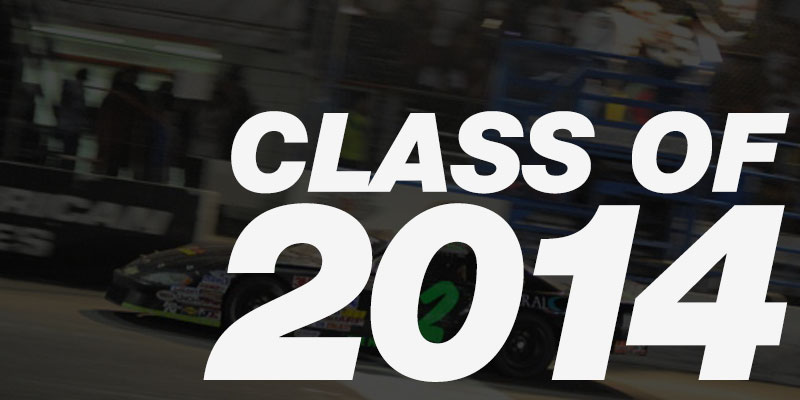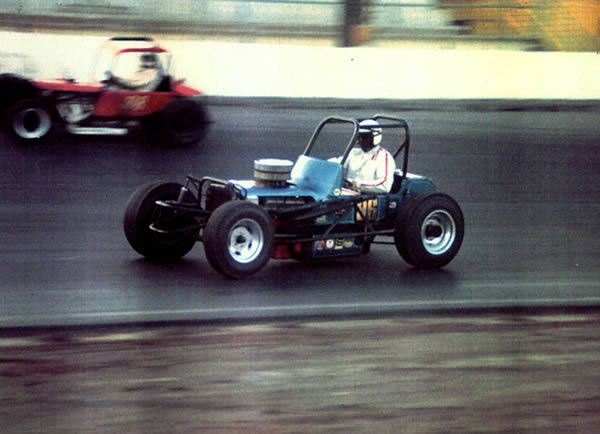 Pete Stringer's love affair with motorsports began at a young age. It began when he turned his brother's soap box derby car into a coupe and added the number 45. Pete's first experience at the racetrack began at Lakeside Speedway, where his dad would take him if he tried hard in school, stayed out of trouble, listened to his mom, mowed the yard and washed his dad's car. His dad would then take him to the races every Sunday night and wait for long hours after the races ended so Pete could hang out in the pits.
Pete began building his first car when he was in high school, with help from Joe Lehman. With the help of Joe, Pete was able to win a few races and a main event during his first season of racing.
In the early years, Pete raced on Saturday night in Colorado Springs and at Englewood Speedway on Sunday night. He also competed in Kansas. Then in 1965, Pete competed in the Metropolitan Championship between Englewood Speedway and Lakeside Speedway. The Championship consisted of two nights of racing and each speedway. Pete won three of the four nights on his way to claiming the Metropolitan Championship in his Modified.
In 1967, Pete built a car to take to the Canadian American Modified Racing Association. He raced throughout Canada, Washington, Oregon, Idaho and Utah and would up sixth in the season point standings.
Pete drove a Super Modified for John Roddy in 1969. During the season, he was racing in the Sam Gallo Benefit Race at Lakeside Speedway when he was seriously burned. The car broke a right rear hub and axle and went into the fence. At that point the rear frame also broke and punctured the full fuel tank. When the car was sliding into the infield, Pete pushed the brake pedal, but his foot got caught under the brake pedal and he couldn't get out of the car. If it wasn't for the Lakeside Speedway Fire Crew, Pete would have never gotten out. When he got to the hospital, they found that his helmet had melted into his hair and because he had inhaled so many fumes, the doctors told Pete he was "close to the end." While Pete couldn't speak for about two weeks, he survived the accident and began driving a Late Model for the Bond Brothers in late 1970.
In that car, he won Late Model Season Championships at Englewood Speedway in 1971 and 1972. He also won the 200 lap ARCA event in Winchester, Indiana in the same car during 1972.
Pete then won the Mini-Stock Season Championships at Englewood Speedway and Lakeside Speedway in 1972 and 1973 driving a Volkswagen for Tone Peconi and Vern Hagstead Motors.
He built his own Late Model in 1973 and raced at Lakeside Speedway, Englewood Speedway and Colorado Springs International Speedway. He finished second, by only five points, in the season points at Englewood Speedway that season.
Pete then drove a Sprint Car in 1975 for Doc Shaffer. He raced at Colorado National Speedway, in California and in Tampa, Florida. In Florida he won the A&W Gold Cup.
In 1977, Pete built another Late Model with a Larry Phillips chassis and won the Late Model Season Championship at Englewood Speedway. During the last season of competition at Englewood Speedway in 1979, he was leading the point standings late in the season when his throttle stuck in a main event and he totaled his car. He also broke seven bones in his left foot, four ribs on his right side and punctured a lung. Pete's wife, Sally, passed away six years ago.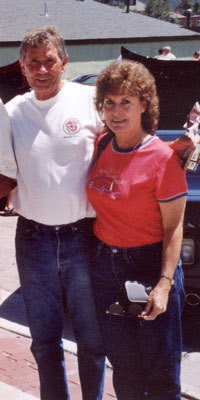 Known as the best "Stick Shift" driver in the business during his era, Wayne began drag racing in 1962 in a 1961 Chevy, F Stock, for Larry Montreal.
In 1963 Wayne drove a '58 Chevy for Dennis Maurer. Wayne went to the National Hot Rod Association's Indianapolis Nationals and won their class. This was the year the Christmas tree debuted at the NHRA Nationals.
In 1964 Dennis Maurer came out with a '57 Chevy convertible. It was a good year. Wayne went to the NHRA Indianapolis Nationals and won his class for the second year in a row. Wayne also won NHRA points' meets at Wichita, Kan. and at Continental Divide Raceway in Colorado. Because the car was disqualified in Amarillo, TX for a 6" gas line, Wayne borrowed a '58 Pontiac from Roy Oldfield and won the points' meet anyways. Wayne finished first in the NHRA's Division 5 points for the 1964 season. Also, at the Cheyenne, Wyoming drag strip, Wayne won a NHRA Stock Eliminator event. Wayne had to race the winners of gas, comp, and gas dragsters. Wayne won with a stocker. There was no money, just a watch and trophy. Wayne is quick to comment that he still has the watch!
In 1965 Dennis Maurer came out with a '57 Chevy, 270hp, 2-door wagon; a '57 Chevy 2-door, 283hp fuel-injected sedan; and a '57 Chevy 4-door, 283hp, fuel-injected 9 passenger wagon. Wayne dominated the NHRA season with all cars.
In 1966 Wayne began driving the Hottman Chevrolet's '66 Chevelle for Dan Miller out of Brighton, Colo. It was a good year, but Wayne was just short of points to qualify for the NHRA World Finals.
In 1967 Dan McCrea borrowed Wayne to drive his fuel-injected '57 Corvette at the NHRA Winter Nationals. They won their class. Wayne then became the full-time driver for Dan McCrea for the next four years. They were NHRA Division 5 points Champion, won the NHRA Winter Nationals, and set several national records. Also in 1967, Wayne was hired to drive Tak's Toy. They went to Liberal, Kan. with both cars and set a national speed record with Tak's Toy and won the NHRA points' race with the '57 Vette.
In 1968 and 1969 Wayne won a lot of local races but missed many point meets because of National Guard duties. In 1968 Wayne won the NHRA points meet at Continental Divide Raceway.
In 1970 Wayne won class at the NHRA Winter Nationals with the '57 Vette. He was second in points.
In the mid '70s Wayne was back driving for Dennis Maurer in J.B. Redwines' 1963 Dodge that Wayne won the NHRA Bracket Nationals at Bandimere. It was the first bracket race in which Wayne had raced. With the '63 Dodge, Wayne was runner-up to Judy Lilly at the NHRA Division 5 points' meet in Winnipeg, Canada.
In Wayne's career, he won nine NHRA points' meets and finished in the top 10 in the points chase for 10 years, and won the NHRA Division 5 Points Championship in '64 and '67.
Wayne drove for 20 years. He retired from racing, started his electrical company and in 2004 retired and moved to Cañon City, CO.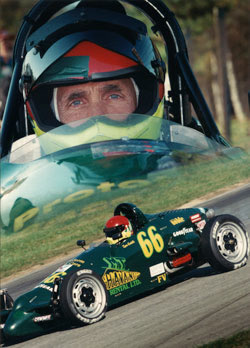 Zan attributes his being a motor head to his father. His father rode motorcycles, flew airplanes, loved cars and passed the wonderful world of "wheels" on to Zan.
While in high school and college Zan had a job with a local foreign car dealership where he got to drive new vehicles from the warehouse in Fort Worth, Texas to his hometown of Lubbock, Texas. At this point, he quickly fell in love with sports cars.
Scraping up $900 to buy a 1959 Austin Healy Bugeyed Sprite, the windshield and all the extras were soon gone and numbers were on the side. After completing a driving school at Rattlesnake Raceway he was on the road to 50+ years of racing.
After completion of college, Zan moved to Colorado, and combined a teaching career with motorsports. He competed in his first race in 1967 at Continental Divide Raceway in a Lotus Super 7.
Leaving Colorado behind for a year in 1970 to move to London, England the racing continued with a new Merlyn Formula Ford. It was great, competitive racing with Formula Ford Fields of 30 to 40 cars in each race. He enjoyed the racing, especially with a large US Flag on the side of his helmet.
Upon return to Colorado, Zan competed in Formula Ford races throughout the country. While racing Formula Ford, his sponsor at the time decided to go racing himself, so he bought two Formula Vs. Both cars ended up in Zan's garage and he told him to start racing one of them. So the era of racing both Formula Ford and Formula Vs began.
Zan was then asked to drive a brand new prototype Predator Formula V in a Sports Car Club of America national race. He did and he won. After which, a long relationship began with Darrell Baily. They built engines and race cars and sold 25 race cars, with some going as far as South Africa.
Zan was then asked by the SCCA in 1989 to become president of SCCA Enterprises to stimulate the company and continue sourcing parts and building kits for the very successful Spec Racer (Sport Renault) race car.
After two years with SCCA Enterprises (while racing Sport 2000) Zan returned to Colorado Springs and was no longer involved with Spec Racer as a profession, but began racing Spec Racers.
Around 2000 a new class, called Formula Mazda, was growing quickly in SCCA. Since Zan was always drawn to a class with large fields and tough competition this seemed to be the way to go, although he did not abandon Formula V. So it was again a two class car entry. Charlie Seffrood became his crew chief and has remained to the present. The Formula Mazda served as his race car as Zan's racing career began to come to an end.
A couple of years ago after winning a race, Zan decided to retire from racing while on the top and in one piece.
To recap his racing career is nearly impossible. Zan amassed 21 national wins and 30 regional wins in the SCCA Formula V class, six national and 12 regional wins in the SCCA Formula Mazda class, four national and 10 regional wins in the SCCA Spec Racer class and two national and 10 regional wins in the SCCA Formula Ford Class.
He was also named "Motorcycle Rider of the Year" after competing in the Baja 7-day race, rode in the infamous Colorado 500 10 times and was named a "Pacesetter" in Sport Car Magazine.