Blu was born in Amarillo, Texas in 1927. He lived in Amarillo until his father died in 1939, after which his mother decided to pack up and move the family to Denver to begin a new life. When Blu was about 11, he began sneaking into Lakeside Speedway through a hole in the fence that he had made by removing nails in the bottom of the board and then bending the board out and then back in after he slipped through the hole. Once inside, he would watch the Midget cars race and got hooked on racing. From then on he couldn't wait until he was sitting behind the wheel of a race car and in the summer of 1946 he got his chance.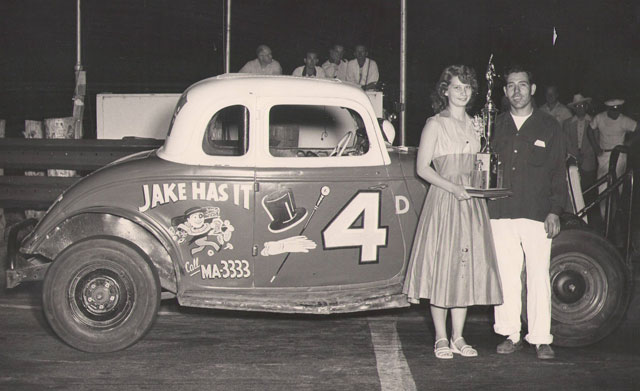 He started by working on Harry Conklin's pit crew, and that is where he met Keith Andrews, who drove Harry's Midget. When Keith decided to move on and drive for someone else, Keith asked Blu to be part of his pit crew, which Blu accepted. That was the beginning of a long friendship that lasted until Keith's untimely death at Indianapolis Speedway in 1957.
Blu started his racing career at Englewood Speedway in 1954 and went on the race at most of the tracks in Colorado and Wyoming, where he raced with greats like Bobby and Al Unser Sr. Then in the fall of 1954, Keith Andrews asked him to be his co-pilot in one of the most grueling and challenging races anywhere – the La Carrera Pan Americana. This race would cover over 1,900 miles in five days from Tuxtla to Juarez, Mexico.
Keith started by putting together a pit crew of friends that would challenge the best money could buy. So it was Keith, Blu, Wilson Mclure, Luther Baughman, Bill Weiher and Al Rogers against some of the best drivers with millions of dollars in sponsorship money that they were going to try and beat. The cars started one minute apart at each leg of the race and were only allowed one hour at the end of each leg to work on their cars. As co-pilot it was Blu's job to make sure that they stayed on coarse and to alert Keith as to which was the road turned and he did this with a map that Al Rogers had made up for them. After five days, 1908 miles, being run off the road, stopped by a train that should not have been there, they rolled across the finish line in third place. This was a huge accomplishment by any standards! They were paid for finishing third but never received their trophy or the Mexican 20 dollar gold piece they were told came with third place.
Blu retired in 1978, after his good friend Sam Sauer was killed driving a Midget at Colorado National Speedway. During the 32 years he raced, he received 3 or 4 perfect attendance awards, best looking pit crew and in 1972 he won the Modified Season Championship at Lakeside Speedway. Blu drove Stock Cars, Midgets and Modifieds throughout his career and he drove for Harry Conklin, Doug Plu, Bert Jones, Tom Burton, Gene Plu, Elmer Sauer, Barney Manley, Don Clark and Dick Ducate. Although Blu is retired from racing, he still loves going to as many races as he can and he loves watching and helping his grandson Todd and great-grandson Michael when they race their Sprint Car and Midget. To this day, no matter where he goes he runs into people who remember him from "the good old days of racing.