Gene Pastor has dedicated his life to automobiles and automobile racing. Born in 1936, Pastor grew up in north Denver. In 1946, as a 10 year old, he started attending Midget races at Lakeside Speedway. As a hobby he was very active in motorcycle and Midget auto racing.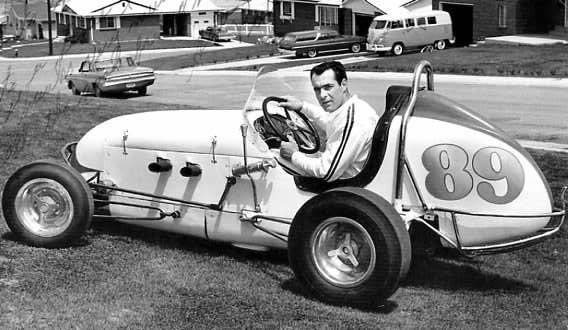 Just six short years later, Gene raced in his first Midget race in Cheyenne, Wyoming. After a few years of racing, Gene received his first break in Midget racing due to a twist of fate.
Don Malone, a friend of Gene's, was killed at the Arapahoe Fairgrounds in 1955 driving for Earl Kouba. Earl rebuilt the car, with the help from Gene. As a payment for his help, Earl in turn gave a Midget, less the engine to Gene.
The Midget was an old Norberg chassis, and after restoring the car, Gene added a V8-60 engine. In the later part of the 1956 racing season the rebuilt machine debuted with Gene behind the wheel.
1957 became a turning point for the 20-year-old, as he was hired to drive for Warren Hamilton in one of Warren's new Offy Midgets build by Vic Felt. Gene won his first Midget race at Lakeside Speedway driving for Warren. Later that year Gene raced for Curt Stockwell, after his driver was injured in a crash. Gene and Curt got along so well they raced together for more than six years.
Gene than had one of his best seasons in Midget racing in 1958, as he scored a victory in the Willy Hardman's V8-60 at Kremmling, Colorado. In the final 1958 Rocky Mountain Midget Racing Association standings, Gene finished in 6th place, equaling his best season finish.
1958 also saw Pastor race for Ed Silk out of Texas. His season ended on a sour note as he suffered the worst crash of his racing career. After the crash, Curt purchased the Bob Pankratz built #31 from Sid Blanford and Gene drove that Offy for many years. Gene also drove for Jack Kline and Dean Dungan.
Gene scored his signature victory in 1968 at Lakeside Speedway. There he beat many storied drivers, including Indy and Midget veteran Arnie Knepper to win the United States Auto Club Feature. He finished in 8th place in the 1969 RMMRA standings. He also finished in 7th place in the final season standings in the Big Car Racing Association that same year.
Gene drove Midgets, Sprint Cars and Big Cars for several owners, including Earl Kouba, Warren Hamilton, Curt Stockwell, Willy Hardman, Sid Blanford, Bob James, Ed Silk, Jack Kline, Tom Bentz, Dean Dugan, Bob Lively, Chuck Jameson, Dave Claussen, Bob Olds, Dennis Giulliam and the Schleiger Brothers.
Gene retired from racing as a drive in 1979 with more than 14 feature wins and many top 10 finishes. He then went on to serve as a flagman at the Belleville Midget Nationals and has served as an official for the RMMRA for several years. He was a member of the RMMRA Board of Directors from 1991 through 2009. He has also served as an official for the American Independent Midget Series, Southwest Midget Series and Professional Open Wheel Incorporated. Gene still has a prominent roll with the vintage race car scene, restoring cars and also participating in events. Recently, Pastor flagged the Big KAR Bill Hall Memorial races at 81 Speedway in Wichita, Kansas.