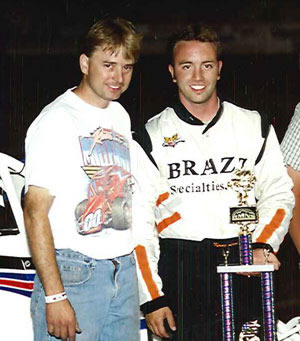 The board selected Mark Matejka to be the recipient of the 2014 Jerry Van Dyke Memorial Award, recognizing outstanding contribution to motorsports by an individual.
Mark began his career as a driver, mechanic and crew chief in 1985. It was his skill as a mechanic that made Mark one of the most respected men in the pits. During his career, Mark won 12 Rocky Mountain Midget Racing Association "Championship Mechanic Awards." He won the RMMRA's "Mechanic of the Year" award seven times and he was awarded the ASCS Rocky Mountain Region Championship Mechanic for Sprint Cars in 2005.
Drivers for which he served as chief mechanic include Randy Roberts, Dave Strickland, Greg Shaefer, Keith Rauch, Gary Taylor, Kenny Lewis, Derrick Ortega, Todd Plemons, and Bobby Seals. He won RMMRA Season Championships with Roberts, Rauch, Taylor and Lewis.
Owners for which he worked include Harry Conklin, Lynn Jacobs, Cindy Roberts and Frank Peterson.