Born in Winterset, Iowa in 1938, Paul Garrison discovered his love for racing when, at age 14, he joined his crafty friends and snuck into the Des Moines track. From that evening on, Paul was hooked on motorsports.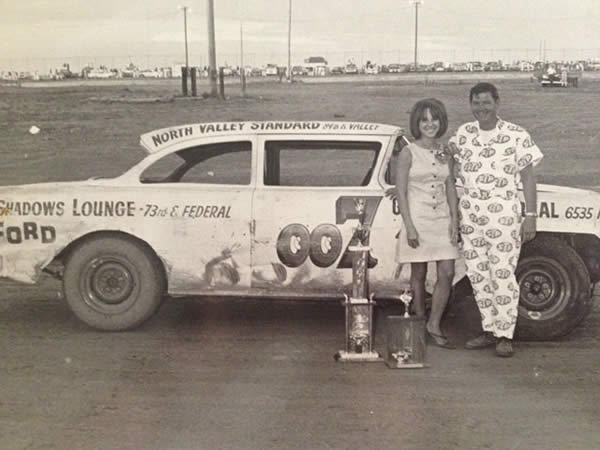 He had a short stent in drag racing while in Iowa, but with bigger plans in mind, he packed up and moved to Colorado in 1959. By 1960, Paul had joined the Bob Walton pit crew at Lakeside Speedway, igniting his lifelong love affair with circle track racing.
A serious industrial accident in 1962 threatened to take his life, but his strong character and determination prevailed and after months in the hospital, he found his way back to racing building cars and taking his turn behind the wheel.
In 1963, Paul took to the track at Lakeside Speedway in his first car, a 1932 Willy's he built with Paul Krieger. After just 10 races he mastered the feel of both the car and track as he raced to what would be the first of many career wins.
He continued racing at Lakeside Speedway until 1965, when the half mile dirt track named Colorado National Speedway opened. For CNS he built a new 1957 Dodge, one of the many makes and models that Paul would run throughout his career.
He earned his first Colorado National Speedway Track Championship in 1968. That Late Model Season Championship win would be the first of three season championship for Paul. His second and third happened during the same season, as he went on to win 1980 Season Championships at both Colorado Springs International Speedway (Late Models) and Colorado National Speedway (Sportsman). During that same year, he captured the record for consecutive main event wins during a season at Colorado National Speedway, winning 11 races in a row and 13 out of 15.
From 1965 to 1988 Paul was a force to be reckoned with at Colorado Springs International Speedway and Colorado National Speedway, as Paul never fell outside of the top 10 in points when running in a full season. His winning reputation extended outside of the Colorado Front Range as he entered and won races in Victoria, BC, throughout California, throughout the mid-west, and all the way down to Florida. He also captured the Texas, Wyoming and Colorado NASCAR Tri-State Series Championship in 1981.
Racing against some of the sport's greatest, including Fritz and Donnie Wilson, Rick Carelli, Richard Petty, AJ Foyt, Neil Bonnett, and Butch Speicher, Paul became not only known as an amazing racer but an incredible friend and knowledgeable resource to people in the industry. When Jim Opperman bought Colorado National Speedway in 1989 he asked Paul to transfer his knowledge of racing from behind the wheel to overseeing the track.
As track manager from 1989 to 2007 Paul helped build Colorado National Speedway into one of the nation's best short track racing venues. Recognizing his sincere dedication to the sport, NASCAR presented Paul with the "National Promoters Award" and "Team Player of the Year" awards in 2007.
Also a respected car owner and talented builder, Paul has helped others win in cars that he constructed. He carries his passion forward to this day as he still builds street rods as a hobby in his garage in Brighton, Colorado.
Receiving this recognition from the Colorado Motorsports Hall of Fame is a great tribute to his career, not only because he shares it with so many of the other amazing men who have dedicated their lives to racing, but also because Paul's son, Michael, nominated his father for the Colorado Motorsports Hall of Fame prior to his passing in 2009.