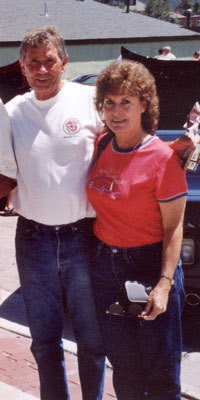 Known as the best "Stick Shift" driver in the business during his era, Wayne began drag racing in 1962 in a 1961 Chevy, F Stock, for Larry Montreal.
In 1963 Wayne drove a '58 Chevy for Dennis Maurer. Wayne went to the National Hot Rod Association's Indianapolis Nationals and won their class. This was the year the Christmas tree debuted at the NHRA Nationals.
In 1964 Dennis Maurer came out with a '57 Chevy convertible. It was a good year. Wayne went to the NHRA Indianapolis Nationals and won his class for the second year in a row. Wayne also won NHRA points' meets at Wichita, Kan. and at Continental Divide Raceway in Colorado. Because the car was disqualified in Amarillo, TX for a 6" gas line, Wayne borrowed a '58 Pontiac from Roy Oldfield and won the points' meet anyways. Wayne finished first in the NHRA's Division 5 points for the 1964 season. Also, at the Cheyenne, Wyoming drag strip, Wayne won a NHRA Stock Eliminator event. Wayne had to race the winners of gas, comp, and gas dragsters. Wayne won with a stocker. There was no money, just a watch and trophy. Wayne is quick to comment that he still has the watch!
In 1965 Dennis Maurer came out with a '57 Chevy, 270hp, 2-door wagon; a '57 Chevy 2-door, 283hp fuel-injected sedan; and a '57 Chevy 4-door, 283hp, fuel-injected 9 passenger wagon. Wayne dominated the NHRA season with all cars.
In 1966 Wayne began driving the Hottman Chevrolet's '66 Chevelle for Dan Miller out of Brighton, Colo. It was a good year, but Wayne was just short of points to qualify for the NHRA World Finals.
In 1967 Dan McCrea borrowed Wayne to drive his fuel-injected '57 Corvette at the NHRA Winter Nationals. They won their class. Wayne then became the full-time driver for Dan McCrea for the next four years. They were NHRA Division 5 points Champion, won the NHRA Winter Nationals, and set several national records. Also in 1967, Wayne was hired to drive Tak's Toy. They went to Liberal, Kan. with both cars and set a national speed record with Tak's Toy and won the NHRA points' race with the '57 Vette.
In 1968 and 1969 Wayne won a lot of local races but missed many point meets because of National Guard duties. In 1968 Wayne won the NHRA points meet at Continental Divide Raceway.
In 1970 Wayne won class at the NHRA Winter Nationals with the '57 Vette. He was second in points.
In the mid '70s Wayne was back driving for Dennis Maurer in J.B. Redwines' 1963 Dodge that Wayne won the NHRA Bracket Nationals at Bandimere. It was the first bracket race in which Wayne had raced. With the '63 Dodge, Wayne was runner-up to Judy Lilly at the NHRA Division 5 points' meet in Winnipeg, Canada.
In Wayne's career, he won nine NHRA points' meets and finished in the top 10 in the points chase for 10 years, and won the NHRA Division 5 Points Championship in '64 and '67.
Wayne drove for 20 years. He retired from racing, started his electrical company and in 2004 retired and moved to Cañon City, CO.