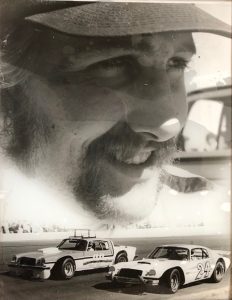 Mike Opperman grew up around race cars, as his dad was a competitor at Englewood Speedway in the Modified division. Young Mike was drawn to anything mechanical and wanted to figure out how things worked, including that race car in the garage. He be
came involved as a pit crew member for his dad when he was 12 years old, and took over as his crew chief in 1972. His driving career began in l974 at Englewood Speedway driving a home built Late Model. The 1976 season was a turning point for Mike, when he drove the modified for his injured dad while continuing in the late model division as well, finishing the season with main event wins in both cars. When he returned to driving late models full time, Mike was a front runner at Englewood Speedway, winning many main events and holding the track record for qualifying when the track closed in 1979. He and his crew traveled across the country to compete against the best drivers in the nation in some of the most prestigious races of the year before returning to weekly Colorado competition in the 1980's. He claimed the Late Model Division championship at Colorado National Speedway in 1989, and consistently finished in the top five in points at the track from 1982 to 2002.
His career accomplishments include over 100 victories in trophy dash, heat race, and main events. Mike swept the 1978 Colorado Invitational Series at Englewood Speedway, won the Wisconsin State Fair Race of Champions and Las Vegas Open Championship in 1980, and won the most main events in one season in several years of regional competition. Throughout his career, Mike was a best bet to take home the trophy from the moment arrived at the track.
Looking back, Mike says he was most proud of his wins in the big end of year races that the Colorado tracks sponsored. These events featured the best local drivers, but also attracted top drivers from other states, like NASCAR Hall of Fame member Larry Phillips. The first time Mike beat Phillips in a race, the racing legend said to him: "No one passes me when my car is right. You're an unknown superstar!" For these racing accomplishments, as well as countless contributions to the racing community made over decades of competition, Mike Opperman was welcomed into the Colorado Motorsports Hall of Fame with the class of 2019.