Dennis Durmas states that he has been on a snowmobile his whole life. Since his parents owned a Moto-Ski dealership when he was young the statement rings true. On his 18th birthday, he bought a motorcycle to race. A few years later, a friend asked if he was interested in racing snowmobile in a cross country event in Wyoming, and the process of learning to race professionally began. Dennis set a goal of getting paid to do what he loved and made that happen in the years to come. He started snowmobile racing in any event Colorado had to offer, and then moved on to races in Idaho, Wyoming, and Montana when work permitted, eventually competing in Minnesota and the surrounding states, where the best in the sport competed.
From 1993-1997 he led Ski-Doo factory supported race team, and from 1998-2010 was a Polaris Factory rider. In a career that has spanned more than 30 years, Dennis has competed in ice drags, snow drags, ice oval, snocross, cross country, hill-cross, and Hill-climb events. He compiled an outstanding competitive record with major wins and titles that include The Colorado Snocross championship in 1996 and 97, the King of Kings Jackson Hole Hillclimb Championship in 2001 and 2003, and becoming the first rider to sweep all three snocross classes at the Eagle River Grand Prix snocross championships in 2000.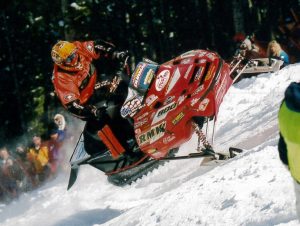 He has scored over twenty class or series championships, as well as dozens of event victories and division titles against the best competitors in the field. He has competed in Snocross events in Sweden and the Winter X games, and has a favorite competition memory is of winning his first National Snocross at his favorite track, Canterbury Park in Shakopee, MN, while hearing the crowd cheer as he took the lead and receiving a standing ovation after the victory.
He has said: "I enjoy motorsports of any kind. I give it my all, on and off the race track. I represent my sponsors well. As a competitor, I would like to be remembered as dedicated! I never give up, I ride it to the end. Life without racing is no life at all!" For this dedication, and in recognition of his outstanding racing career, Dennis Durmas is now a member of the Colorado Motorsports Hall of Fame.