Charles Wilson's career had humble beginnings on the tacky dirt of Lawton Speedway in Oklahoma, where a part-time job at a machine shop opened the door to a lifelong love of racing. By the 1986 season, he won a track championship as a rookie in the Street Stock division while picking up wins in 14 of the 18 main events. After moving to Penrose, Colorado 1987,the on-track success quickly resumed. He rattled off a runner-up finish and three straight track champions from 1993-96in the Modified division at Beacon Hill Speedway. Charles and his team were racing 16-17 times a season while winning with Mopar engines, something few others on Saturday night short track thought was possible.
The early years at Beacon Hill help spark a now 30-year sponsorship between Charles and Pueblo Dodge, introduced him to his eventual best friend and long-time crew chief, Gary Huffman. With Huffman's help, Charles added a new wrinkle to his resume in 1997 when he began working on other people's racecars and building race chassis as the owner of Circle Burner Racecars. Becoming a chassis builder presented new avenues to impact the lives of the fans and families who would frequent the business, and he became teacher, friend and ambassador for the sport to many in the Colorado auto racing community while building winning cars for many teams
All the while, the Plum Crazy Purple No. 59 cars were still making their way to Victory Lane as he drove his way to track championships in 2000 and 2008 in the Super Late Model division, and Modified championships in 2004 and 2012.His last championship to date came in 2012 at Sandia Motor Speedway, a flat half-mile track located on the outskirts of Albuquerque, New Mexico. The success down south brought Charles career totals up to over 100 main event wins and eight track championships, spanning across four decades and three different states.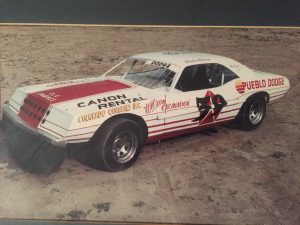 In the years since that 2012 championship, Charles accepted the challenges of supporting the racing career of his son, CJ Wilson, and assuming a position as Race Director at I-25 Speedway from 2013-16.
The itch to climb back in the driver never went away as he re turned to the sport full time in 2018, running all eight nights of the Grand American Modified series at Colorado National Speedway and finishing third overall in the point standings.
For an outstanding career on the short tracks, we congratulate Charles Wilson was inducted into the Colorado Motorsports Hall of Fame with the class of 2019.