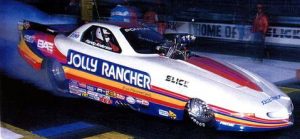 Bob Harmsen will be inducted into the Colorado Motorsports Hall of Fame as one of the 2019 Jerry Van Dyke award recipients. Born in 1943, Bob had an early passion for cars and racing, which turned into a lifelong involvement supporting motorsports through the Harmsen family-run Jolly Rancher Candy Company. During his lengthy career, Bob supported countless drivers, teams and organizations through Jolly Rancher sponsorship, with the list of drivers who realized substantial financial underwriting reading like a who's who of racing. From Mark Martin and Elliot Forbes-Robinson competing in NASCAR events, to Mike Gregg winning multiple championships in Midget auto racing, Bob's support through marketing and sponsorship changed the course of many racing careers. His presence in drag racing is legendary, with hall of fame caliber racers Don Garlits, Junior Kaiser, John Abbot, and prominently, Lori Johns and John Force all benefitting from John's financial commitments and visionary approach to advertising and product visibility. Bob's sponsorships did not end with individual competitors, as he supported the Roger Mauro Midget Racing Championship, the USAC National Midget Racing Series, and Pikes Peak Hill Climb, as well as individual regional and national racing events. Bob sponsored everything from local go-kart teams and regional tractor pull competitors to the most highly visible national race teams in the country.
Bob was well ahead of his time in recognizing the role of branding and logo placement. Whether it was choosing the side of a highly visible scoring tower for the Jolly Rancher logo in a1970's NASCAR national TV race,or placing the Jolly Rancher brand prominently on a front running car, Bob's skill in promoting brand awareness through racing sponsorship was legendary.
For all of the contributions made to successful driving careers he sponsored, Bob always preferred to remain behind the scenes and was quick to credit others for the good days. He rarely appeared in victory lane or other publicity photos, though he was often deserving of time in the spotlight. Bob was tireless in his support of racing in the many forms it takes. He often said "if you love what you do, you never work a day in your life", and Bob loved what he did.
Sadly, we lost Bob Harmsen in 2019. It must be noted that it was he and Jerry Van Dyke who led the effort to re-establish the Colorado Motorsports Hall of Fame after it was dormant for several years, and now it is most fitting that recognition given for individual contributions to Colorado Motorsports–the Jerry Van Dyke Award–is presented to Bob Harmsen.