Bill Canty moved to Colorado with his family in 1960. After finishing school, his early racing experience consisted of drag racing a pickup truck at Rocky Mountain and Mountain View Dragway. After a tour of Vietnam, Bill began his stock car racing career in 1971 when his mother in law made a $5.00 bet with him that he would never build a race car. Three weeks later, he took the green flag of his first race in a car he constructed. In the following years, Bill raced at practically every track in Colorado, and ventured to seven other states to compete in some of the big events of the era as well.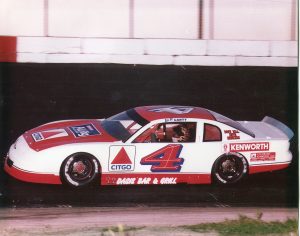 The highlight year of his career came in 1974, when Bill amassed enough wins to earn track championships at both Beacon Hill Speedway and Raceway Park, while also finishing in the top ten in points at Pikes Peak Speedway. After that season, Bill and his crew took to the road, racing throughout the western United States until 1985, when family health issues forced him to step away from getting behind the wheel for 13 years. In 1998, the racing fire was reignited after watching his niece and her husband compete in local drag racing events. Bill teamed with Larrimie Duncan to build the #4 late model and return to Beacon Hill competition. The team successfully completed three more years of racing, and were on the threshold of another track championship before selling the car to a competitor and retiring from racing in 2000.
In twenty years of stock car competition, Bill Canty was a perpetual front-runner who recorded dozens of quick times, dash and main event wins at numerous tracks. His competitors and fans could always recognize him at the track by the derby hat he would wear each week, and they knew he would have a barbeque going after the races, win, lose, or wreck. In recognition of his racing accomplishments as a first class competitor in southern Colorado and beyond, Bill Canty was inducted into the Colorado Motorsports Hall of Fame in 2019.