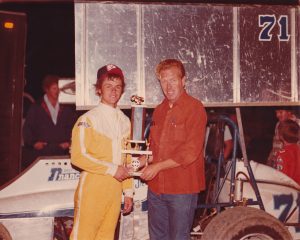 Tom Vanswearingen received a 2018 Jerry Van Dyke Award for contributions made to Colorado Motorsports during his 50 years of involvement in racing as an event announcer, pit steward, and race official for numerous organizations and race tracks.
Tom was the announcer for the RPM Sprint Car series in the early 70's, and continued to announce events for Midget, Sprint Car, USAC Silver Crown, and Stock Car racing at tracks throughout the region for over 30 years. Most fans knew him from his work at Lakeside Speedway, Colorado National Speedway, and Rocky Mountain National Speedway, where he worked alongside legendary announcers Jerry Van Dyke, Mitch Miller, and Mark Woodward.
 As an event announcer, Tom did far more than simply provide facts.  Through his vast knowledge of the sport, his personal interactions with the drivers and teams in competition, and his unforgettable ability to connect with fans and the racing community, Tom was able to provide insights into what was transpiring at the track and create an experience that was unforgettable for fans in the stands.  When it came to race day, Tom was always willing to do whatever he could to make and event successful, whether it was in the booth, in the pits, or on the track.  Tom would most often be seen before the beginning of these events, interviewing drivers, crews, and officials, looking for bits of information and insight he could pass along to his audience.  He was the ultimate friend to the sport: part official, part reporter, always an enthusiastic and knowledgeable promoter of racing.
The Colorado Motorsports Hall of Fame is pleased to recognize Tom Van Swearingen's lifetime contributions to the sport of auto racing and his passionate dedication to make a days at the races memorable for everyone by awarding the Jerry Van Dyke Award to him as a part of the class of 2018.