Wayne Demonja's passion for racing began with motorcycles. He started by riding a minibike as a youngster, progressed to motorcycles he raced in Motocross and Desert events, and finally stepped into off-road cars and trucks to compete in national and international Desert Racing. Along the way, there was participation in Circle Track, Nascar Truck, Sprint car, and Hill climb competition, but off-road racing has remained in the center of his racing career.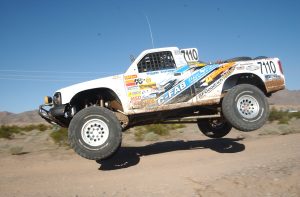 Wayne's father this took him to his first Desert Race, the famous Mint 400 in Las Vegas, in 1979. The hook was set, and a stellar career that has included multiple major event wins and six series championships followed. Wayne raced American Motorcycle Association/Sports Rider Association of Colorado 125 and 250 CC motorcycles in Motocross and Desert racing from 1971 to 1980. He graduated to a Class 5 VW Baja Bugs, racing in regional and national events from 1980 to 1986, and earning a SCORE World Championship in 1985. As he proceeded from mini trucks to full size trucks, his team was awarded multiple factory sponsorships, including Mazda of America, where he was American Team owner and driver.
In addition to his impressive record of off-road racing accomplishments, Wayne established C-FAB Chassis Fabrication in 1975, and his business has provided professional fabrication services for front-running competitors in off-track, oval track, and road racing for decades. His contributions to the sport have been immeasurable in this capacity, as he has supplied high-quality chassis and racing components for track and series champions throughout Colorado and the nation.
Looking back on a career as one Colorado's most widely recognized and successful off-road racers, Wayne lists some of his best memories as finishing his first Baja 1000, winning the 1985 SCORE and 2006 BITD Championships, winning Vegas 400, Henderson 400, Riverside California races, as well as having wife Darlene co-drive/navigate in some of the Desert races. He will be remembered by his fellow competitors as a consistently competitive driver who was always willing to help other drivers and teams in their racing efforts.
In recognition of a remarkable racing career, Wayne Demonja was a 2019 inductee into the Colorado Motorsports Hall of Fame!