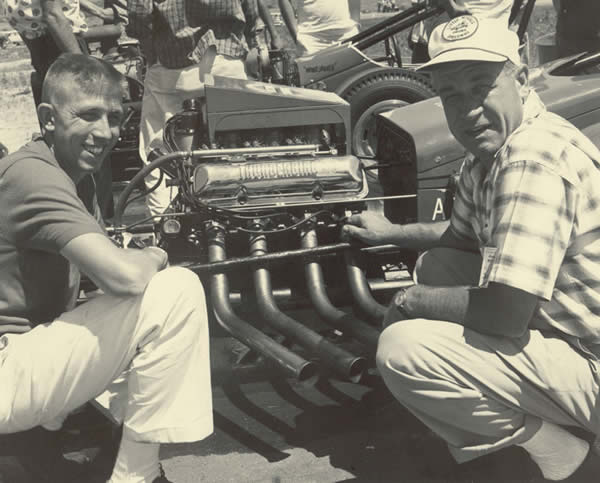 Ron was born into a family that was already into high performance vehicles. So it was only natural to follow the lead. As early as six months old, he was in the grandstands at Merchants Park and later Lakeside Speedway.
With his father, Roy Leslie, having won two Rocky Mountain Midget Racing Association Championships by the time he was six years old, young Ron became very enthusiastic about open wheel racing.
Ron's first racing experience came in 1951, when he entered the Soap Box Derby, and finishing as the runner up. At age 16, Ron's first car was a 1939 Ford Deluxe Coupe with a 276 flathead, which he ran at Lowry drags in'54 and '55 in C-Gas class. In 1955, he got his ride in the K&L Roadster with a Lincoln engine for power. His first pass was over 107 MPH. From that time forward, he campaigned the roadster locally.
Ron is pictured on the left.
Ron was also involved in the formation and acquisition of Jeffco Fair Grounds for the quarter midget racing that ran there from 1957 through 2000.
In 1959, Ron purchased a Scotty Fenn TE440 chassis using a carbureted 390 Ford engine. While Ron was on active duty in the army, Bill Kenz built a front cover and blower adapter so that the 390 was fitted with a supercharger for the 1960 season. From this time on Ron was behind the wheel of the Kenz and Leslie drag car entries.
In 1965, Kenz and Leslie purchased a Woody Gilmore Flex dragster into which a blown 427 Ford engine was installed. It made its debut in May of 1965.
The 1967 season saw the Kenz and Leslie fuel dragster fitted with a Single Over Head Cam Ford motor, one of only a few throughout the country.
1965 was the year that the Funny Car craze hit. Late in the year, K&L was notified by the Mercury Performance Program that they would be receiving one of four Mercury Comets being built for their new race program. In 1966, with the new Comet, they qualified in the number one spot for the NHRA World Finals. Unfortunately the event did not turn out well as Ron flipped the car and totally destroyed it. But the Funny Car program was not over. 1967 saw the team return with a Mercury Cyclone funny car. From 1966 through 1971 a number of funny cars ran under the Kenz and Leslie banner. K&L's 1968 High Country Cougar set a NHRA nation speed record, becoming 'The Worlds Fastest Cougar.' The last of the funny cars was the High Country Comet powered by a Single Over Head Cam Ford Engine in a Gilmore chassis. The Kenz and Leslie race cars were always finely prepared.
Ron was involved in numerous match-races in both the dragster and funny car classes throughout his racing career. Two of his most memorable races were defeating The Ram Charger and Don Nicholson, both nationally known stars in the Funny Car ranks, with three straight wins in the best of three series. His racing career came to a close in 1971. Ron Leslie passed away March 28, 2017