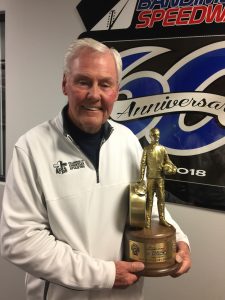 John Bandimere Jr. has been around fast cars most of his life – as racer, high-performance auto parts dealer, and race track manager. He began drag racing while he was in high school, and the 1957 Chevy he acquired to race up Colorado's famous Pikes Peak became one of the hottest drag cars in Denver. He stepped away from racing in the 1960's when he and his brother, David, joined their father's high performance auto parts business. After spending 16 years as general manager of Bandimere Auto Parts, John Jr. turned the business over to his brother and became the full time manager of Bandimere Speedway in 1975.
The track was the dream of John Bandimere Sr. and his wife, Frances. Bandimere Speedway began operating as a non-profit drag racing track in the late '60's as a place where young people could run their cars in a safe, supervised environment. John Jr. then began operating the track as a semi-commercial facility, dedicated to "providing a place where young people could race off the streets".
The speedway became sanctioned by the National Hot Rod Association in 1968, and held its first national event – the Mile-High Sports nationals, in 1977. The following year, professional categories were added to the event, and it became the renowned Mile-High Nationals. John oversaw a major renovation in 1988 that transformed the track to its current operating configuration as a world-class drag racing facility.
Over the next four decades, John Bandimere Jr., as owner and operator of Bandimere Speedway, developed the track to fulfill a variety of motorsports needs. It is still a place where the "little guy" can race, and as one of the most innovative drag strips in the country, hosts professional competition in virtually all classes of drag racing competition. Set in an ideal location in the beautiful Colorado foothills, the track provides a unique setting for spectators who attend nearly 130 events during its April through October racing season.
In 2018, Bandimere Speedway celebrated 60 years of speed, and it continues as a family-operated business that is now into its third generation of motorsports leadership. John Bandimere Jr. continues to be involved as Chair of the Board and, most recently, the facility's CSO, which stands for Chief Spiritual Officer.
John has said: "Bandimere Speedway has been successful and has endured many challenges over the past 60 years because we truly believe that God has given us a unique platform and opportunity to not only share the Good News of Salvation to those we come in contact with, but also because we have always had our hearts with the beginner racer. We have built from the little guy to the professional."
In recognition of a successful career in multiple aspects of drag racing, as well as his role in developing one of the most successful racing venues in the state, John Bandimere was inducted in to the Colorado Motorsports Hall of Fame in 2019.