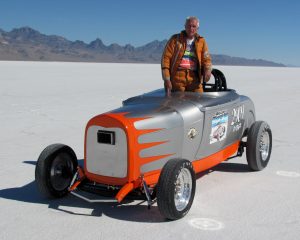 Butch Salter's "affair with the Automobile" began while he was in high school and he removed the top from his first car, a 1928 Ford, to make it a roadster. It became his first race car, powered by a four cylinder engine. In the quest for speed, he built a dragster from scratch for the four-banger engine and ran for a number of years at the Colorado area drag strips.
In 1962, a blown small block Chevy was added to the mix to create a car that was very competitive in the A/Dragster class in the Denver area. Butch continued his dragster racing career through 1972, and turned his attention to land speed racing on the famous Bonneville Salt Flats in 1990. Over the next few years, Butch set four land speed records at Bonneville in the D/Blown Gas Roadster class.
In 2002, he achieved a career high of 225 mph driving the Dearth Brothers/Brissette Roadster. In 2006 a new roadster was started that became a two and three quarter year construction project. The "Rocky Mountain High Boy" achieved its top speed at Bonneville in 2014 at 193 mph.
From 2015 through the present, Butch has been involved in running his Rocky Mountain High-Boy roadster at the Colorado Mile at the Front Range Airport, achieving a 185 mph speed on the flying mile course. He is quoted as saying: "It's been a good run! I never would have imagined this back in the 50's when it all started. I had dreamed of driving an automobile at 200 mph and have achieved this goal".
Butch is quick to acknowledge that he could not have reached this goal without the help of his friends, crew members and the support of my wife of 53 years, Carole Ann. For his career in the fast lane, as well as a life of dedication to the sport, Butch Salter was inducted into the Colorado Motorsports Hall of Fame in 2019.