Rick Smith was born into a racing family, and spent much time in his early years traveling with his family to tracks around Western Nebraska & Eastern Wyoming. His dad and uncle were racers, as was his Grampa, who built a race track outside of Gering, Nebraska when Rick was six years old. The track, now known as Hiway 92 Raceway, is still in operation today, and Rick spent his summers making thousands of laps in his go kart on that track.
At 17, one of his racing uncles let him drive his hobby stock for a few races, and it led to a career on Colorado, Wyoming, and Nebraska short tracks. His new wife talked him into going to the races in 1981, like she had with her family before they met, and with in weeks they had their own Hobby Stock.They began racing mid-season and finished 6th in points.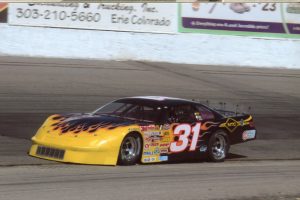 Rick won several Championships and Sportsman of the Year awards at the Gering and Alliance Nebraska tracks before he began competing at Colorado National Speedway.After a few seasons of splitting time between tracks in two states, he ran full time at CNS after 1992, competing in the Super Stock division from 1993 – 1997 with multiple wins and quick times, along with the 1997 class Championship.Rick moved up to the ProTruck division, where he won Rookie of the Year honors before joining forces with Late Model owner Mike Warren in 2001 to run the full schedule in the Super Late Model class. With his dad as crew chief, Rick became one of the guys to beat as he become a regular visitor to the winner's circle, earned a Sportsman of the Year award, andthe 2007 Super Late Model Championship.After fifteen years as front runner in the Super Late Model division, Rick stepped away from the car in 2016 to help his son race full time asa 4th generation racer.
Rick has said he would like to be remembered for being fair, honest, hard-working and doing the best he could with what he had, as well as helping his peers/competitors make their cars more competitive whenever he could.For his dedication to the sport and on-track accomplishments, Rick Smith was inducted into the Colorado Motorsports Hall of Fame in 2019.