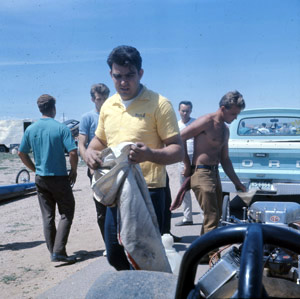 Mark Williams began a lifetime involvement with drag racing in the late 1950s owing and driving an Olds-powered '34 Ford coupe. By 1960, he built and drove his first dragster primarily made out of old drive shafts. A trained machinist, Mark worked for John Bandimere, Sr., developing new products, but decided that building race cars was what he really wanted to do. He joined forces with friend Ron Bement and built a contemporary dragster which was sold to Hall of Famer, Roy Golightly. He took the profits from building that car and invested in the equipment needed to open up a race car building operation of his garage in 1963.
Mark built many cars that dominated their classes in NHRA Division Five events. His cars run by Bill Rice and Larry Frazier won numerous races and championships. Perhaps the most famous of the cars he built was the rear engine top fuel dragster campaigned by the Kaiser brothers in the early 1970s. This was considered to be the blueprint for rear-engine revolution of today's top fuel cars. In 1985, the last race car to come out of the Williams' shop was a top Alcohol Dragster owned by Vern and Brian Raymer. By this time, Mark had built an estimated 150 cars.
Today, Mark Williams Enterprises sells blueprints and component kits for a variety of drag racing machines. The best known of the products he manufacturers and sells are forged, hi-torque racing axels, first used by Hall of Famer Judy Lilly. Other products include disc brakes and drive shafts. His manufacturing processes are technically the best available and he has an extensive research and development department.