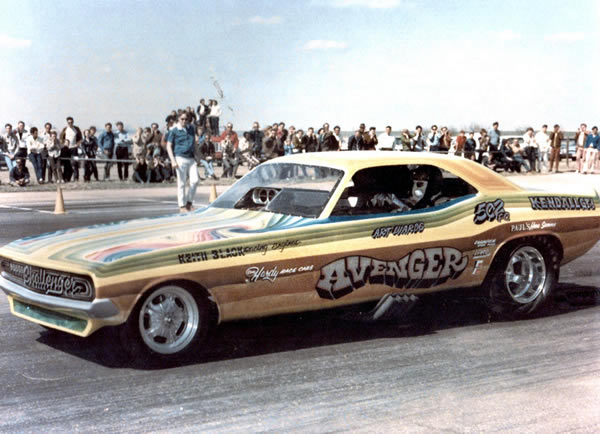 Art Ward moved to Colorado from Oklahoma in 1958 at age 18. Soon after, he became a feared street racer behind the wheel of his two hot '57 Chevys. He and his friends would hang out at drive-ins looking for races. In 1959 Ward graduated from the streets to a track in Scottsbluff, Neb. There, he won his class and the "King of the Hill" shoot-out against a dragster in his '57 Chevy, which he then drove at Continental Divide Raceway and Thunder Road for the rest of the year.
In 1962, Art teamed up with owner and former driver Roger Guzman and starting in 1963 the two set record after record at a number of drag strips with a 1951 Anglia and then a 1939 Willies in the B/Gas class. 1966 was the year when Art first sat behind the wheel of the Guzman 1968 MG, powered by a blown, big clock Chevy named "Assassination." Competitors called the car "Killer Car" because of the car itself and Ward's driving talents. Ward won the Indy NHRA Nationals in 1966. The following year, Ward posted a 95 percent win record while setting a National record of 9.44 seconds, 139 miles per hour for the quarter mile. "Assassination Too," a 511 cubic inch supercharged Corvair Funny Car came on the scene in 1968. Guzman provided Ward with a car he would drive to back to back wins in California, winning the Nitro Championships and setting track records almost everywhere he went.
Ward took 1969 off, returning the next year to drive the "Avenger" Funny Car Mustang, when he partnered with Jack Bradley. In the next few years he set several track records, became the Rocky Mountain Funny Car champion and won the AHRA Funny Car Nationals at Century 21 Speedway, topping 204 miles per hour on one of his runs. In 1975, Ward again joined with Guzman and in 1976 won the NHRA Division 5 Funny Car Championship. He tried his hand at driving a top fuel car in 1977 before retiring in 1978.
During his drag racing career he had run against the best there was taking his share of victories. Unfortunately, several years ago, Ward lost his battle against his toughest opponent of all, cancer.