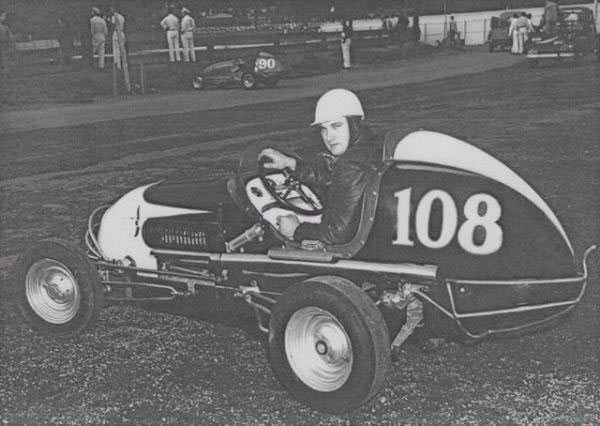 Sonny Coleman saw his first midget race at Lakeside Speedway in 1942. Little did he realize he would be driving at that track a few years after World War II. Like many others, Sonny built a street roadster and went looking for street races. Harvey Wilson was impressed enough with Coleman that he invited him and his car to race in 1947 at a track in Brighton. Coleman's car ran poorly in the B class so he built a new race car, that while was faster, also put him in debt.
While working at the 9th Avenue Motor Service, he met driver and owner Leon Hawks and served on his midget racing pit crew. It wasn't very long before Sonny told Hawks if he couldn't drive better than he had he should park the car. Hawks then put Coleman in the car. That was the start of Coleman's midget racing career. Hawks worked so many hours that he let Sonny take charge of the car, trailer and tow vehicle so Coleman could run the midget wherever he wanted. Leon's wife was appointed to manage the team. Sonny started running with the Colorado Midget Racing Association series at Englewood Speedway, scoring two feature victories in the Hawks' V-8 60 powered car.
Returning to Lakeside, Coleman received invaluable input from Miles Spickler and Roy Bowe. They would help set up the midget. In 1950 Coleman took the famous Kenz and Leslie V-8 60 midget to the Rocky Mountain Midget Racing Association Championship, battling Roy Bowe right down to the wire. He finished fourth in the standing in 1951 in the same car. He drove to 12 RMMRA feature races during his career.
1954 Coleman's career came to a close when he was badly hurt after a radiator in the three quarter midget he was driving exploded.