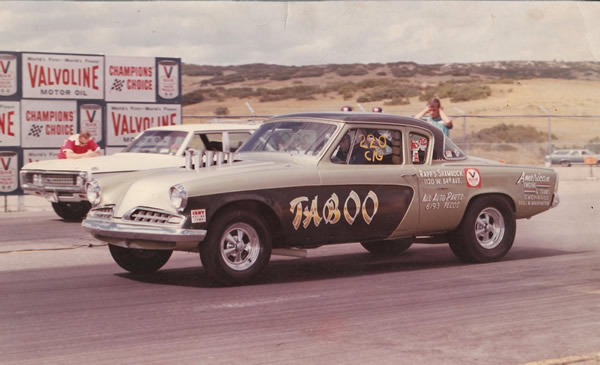 Don Hackenberg grew up in the Denver area, and like many teenagers, found an interest in fast cars and drag racing.  In the late 50's and early 60's, Don began his involvement with drag racing  when he helped work on a 1948 Fiat with a Blown 392 Hemi that was owned by Pop Marner, and had a chance to drive the car a couple of times.
In 1967, Don opened American Engine & Transmission Exchange, and that's when his racing career really took off.  Starting with a 1967 Dodge Coronet called "Dodge Fever" that was powered by a 426 Hemi, Don built and successfully campaigned MOPAR powered cars in numerous racing divisions, with many track records and national championships to show for his efforts.  A few of these cars included a Modified Production Class (A/MP), Hemi-powered 1954 Studebaker called "Taboo", a factory 1968 Hemi Barracuda that ran in the Modified Production Class (B/MA) called "Sunday Punch", and a small-block rear engine dragster called "Vamoose"  that was campaigned in the Super Pro Class at Bandimere Speedway. In addition to his on-track success, Don was instrumental in grooming many of the Mopar racers who enjoyed racing success in the Denver area.
In the late 1990's, Don shifted interest to Stock Car racing, and was instrumental in bringing Mopars to Colorado National Speedway and several other regional oval tracks when he built engines for a number of successful racing teams in Late Model, Truck and Modified divisions.
In 2004, Don's skills and competitive instincts came to life when a very special Chrysler aluminum small block came into his possession. He collaborated with his longtime friend, Mike Molgard, on the development of a MOPAR 427 Aluminum Small Block.  The result was a hybrid that was part circle track, part drag racing, and all small block Mopar.  It was a pioneering effort with many obstacles, but the result was unique, offering a level of performance from a small block configuration normally only available from a big block. In the end, the motor was the ultimate sleeper, being housed in Mike's CE65 Belvedere sporting full factory interior, and running 10.54 seconds in the quarter mile.
While Don has scaled back his week-to-week racing operations, he still goes to the shop every day to do the work that he loves: building high performance motors, as he has in a long, successful motorsports career.