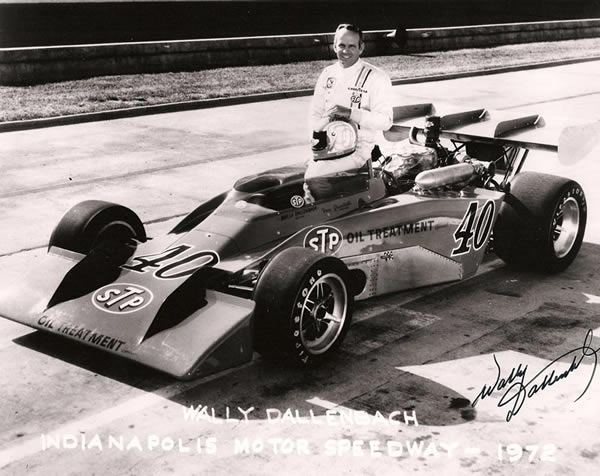 At age 15, Wally Dallenbach, Sr. began building race cars and engines, turning a '38 Ford Coupe into a stock car. Too young to participate as a driver, he campaigned the car for two seasons as an owner and mechanic, gaining invaluable experience in the mechanical and handling aspects of a race car. This later became important to him on a professional level in Championship Racing and tire testing for Goodyear.
At the age of 17, a legal driving age, he switched to drag racing. In 1959-1960, he built one of the first successful rear-end dragsters. He then accomplished some 80 wins over a period of five years and, at the age of 21, he began oval racing. He promptly built another modified stock car and campaigned on the Eastern race tracks for more than four years, winning more than his share of races along the way.
At age 24, he then switched to the mighty midgets and sprint cars for about two years to gain more experience driving open cockpit race cars. During his career, both in stock cars and Championship cars, Wally raced at many New Jersey and surrounding area tracks. In 1965, Wally received his first break in Championship Car Racing, driving an outdated roadster in Langhorne, Penn., then one of the roughest tracks on the circuit. He qualified 11th and finished 9th in his first Champ Car ride with obsolete equipment.
His rookie year at the Indy 500 was in 1967 where he qualified 15th and was running well when he was sidelined with a broken rear axle on the 87th lap. In 1975 he led the Indy 500 for 97 laps when the engine failed with a burnt piston with only eight laps remaining, due to rain. Wally's best year was in 1973, driving for Pat Partick's S.T.P. Eagle, winning the Milwaukee 200. From there he went on to win the California 100 and the California 500, giving him a consecutive winning streak and finishing the racing season with a second place finish at Phoenix, which placed him second nationally in the point standings that year.
Wally was approached late in 1979 about serving as CART's Chief Steward. He had a few weeks to think about it, but little did he know that after accepting the position, he would one day return to the cockpit of an Indy car. After the first weekend of the Indy time trials was rained out, Mario Andretti, who was committed to drive in the Belgium Grand Prix the following weekend, asked Wally to qualify the car for him. Wally turned in a four lap average speed of 193.040 miles per hour, 12th fastest in the 33 car field.
Wally competed in 180 Indy car races, winning five times. He raced in the Indy 500 13 times, finishing 4th in 1976, his best finish. He organized the Championship Driver's Association in 1978 and was CART's first driver's representative. Wally retired as CART's Chief Steward after 23 years. Wally continues to organize two Colorado 500 Charity Rides; a road bike ride in June and a dirt bike ride in September, both originating from his ranch in Colorado. These charity rides have improved the lives of many young people in Western Colorado through their donations and scholarships, which to date have dispersed well over $1 million.