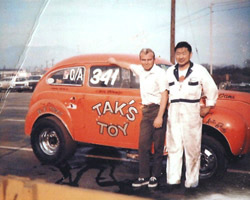 Tak Shiramizu was considered one of the best engine preparation specialists In the country. The drag race engines he prepared won major racing events across the United States as well as setting many track records. His own drag racing cars named "Tak's Toy" were a familiar sight at tracks in the region, including a very successful A Dragster.
One of the Top Alcohol Dragsters Tak worked on took the Ramer family to the National Hot Rod Association's top alcohol dragster championship in 1980. That same car finished in top 10 in NHRA points every year it ran and was a national record holder.
Tak prepared engines and components for stock cars that won championships on oval tracks, speed boat championships and a very successful mud racing jeep. He prepared a motorcycle engine that won the Pikes Peak Hill Climb and did the fuel management system for a Bonneville Salt Flats Streamliner that set a world speed record of 450 miles per hour for a piston driven engine.
Tak passed away in October 2012.