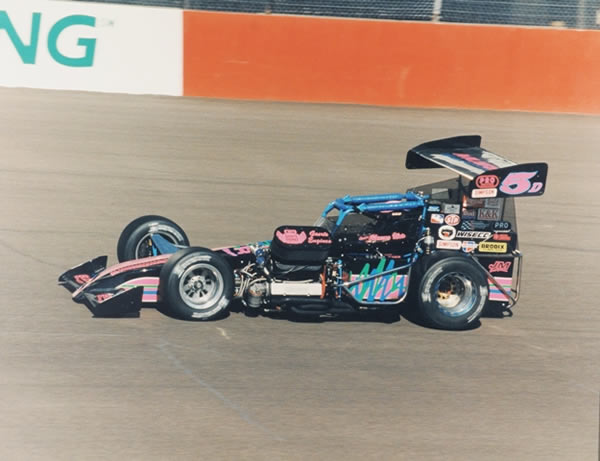 Scott Backman formed a passion for racing as he grew up watching members of his extended family compete in events at Englewood and Lakeside Speedways.  He served as a pit crew member on the CARC Modified piloted by his brother Jack at Lakeside, from when he was finally old enough to get into the pits until 1985, when his own racing career got its start.  Over the next 24 years, Scott drove CARC Modifieds, Englewood Racing Association Supermodifieds, Grand American Modifieds, Pro Trucks, Late Models, and NASCAR Touring Series Late Models, accumulating 71 event wins and two track championships.  He was a Rookie of the year in the following divisions: ERA Supermodifieds in 1984, Colorado National Speedway Grand American Modifieds in 1996, Colorado National Speedway Pro Trucks in 1997, and NASCAR Elite Series in 2006.
Some career highlights include competing at 34 tracks around the country, with event wins at Mesa Marin Speedway in Bakersfield, CA, Beacon Hill Speedway in Pueblo, CO, Colorado National Speedway in Dacono, CO, Meridian Speedway in Meridian, Idaho, and Madera Speedway in Madera, CA, as well as finishing 8th in the Firestone Indy Lights race of the Denver Gran Prix in 1991.  He recorded 11 feature wins, most quick times and trophy dashes in his 1989 Supermodified Championship season at Colorado National Speedway, and set track records at CNS, Beacon Hill Speedway and Portland Speedway.  In 2006, he represented the state of Colorado in the Toyota All-Star Shootout at California's Irwindale Speedway.
In addition to his on-track accomplishments during his 43 year involvement in racing, Scott Backman has aided local racers through his sign and graphic design business, contributed much charity work and readily lent support to regional events through car and driver appearances whenever called upon.  He worked as track manager for Colorado National Speedway for several seasons, and has ably contributed to the Colorado Motorsports Hall of Fame as a board member and as its current president.