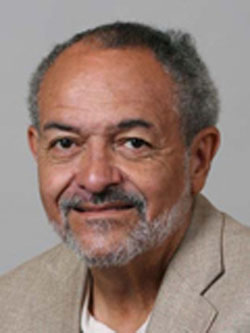 Russell "Doc" Simpson grew up in Bridgeville, Pennsylvania. His love affair with racing began at a very young age, as both his father, RG and his uncle, Ronald were involved in racing. As a matter of fact, Ronald became the first black mechanic to work at the Indianapolis Motor Speedway. After his uncle Ron was killed during World War II, Doc's dad would go to Heidelberg Raceway to visit with Ron's old friends. He would bring Russ, at the age of four or five, along with him – stoking his affection for motorsports.
At an age of seven, Doc and his father built a go kart in the bathroom of their house, much to the dismay of his mother. He began racing the go kart in Bridgeville and Allentown, Pennsylvania. He also used the go kart to deliver newspapers; he always had a need for speed!
Doc's participation in motorsports went up a notch in his early teen years when a friend of his, Mike Kosky, let him start hanging around Mike's brother, Butch, as he worked on and raced his dragster. When Butch went to Vietnam, Mike and Doc began racing the car.
While they were very good at racing, they also got into trouble at home. Neither Mike nor Doc had told their parents they were racing and they were caught when a photo ran of them in the winner's circle at a track in Salem, Ohio. To make matters worse, they were both under 16 – so neither of them had a driver's license.
Doc went on to attend college at Colorado State University. There, he majored in chemistry, so that he could learn about racing fuels. Upon graduating, he moved back to Pennsylvania, where he began working for a pharmaceutical company.
He returned to Denver soon after to attend medical school at the University of Colorado. It his during this time he met his wife, Kathy. After graduating from medical school, Doc began his medical practice, which he continued for more than 35 years.
It was at this time that he also found a way to blend two of his greatest loves – medicine and auto racing. Beginning in the 1970s Doc became the track doctor for Colorado National Speedway and Rocky Mountain Speedway during their sprint car and midget car events. He also served as the track physician at Lakeside Speedway during midget car events and as a track physician during the Denver Grand Prix Champ Car race.
Outside of Colorado, he also served as a track physician for Indianapolis Raceway Park and the historic Belleville (Kansas) High Banks during the Belleville Nationals. He was also a member of the safety crew for Phoenix International Raceway.
Doc worked tirelessly to improve the safety efforts at all the racetracks for which he was a part. He trained safety crews, required ambulances to be on site during racing events and required a flight for life helicopter to be on site for open wheel events.
Outside of racing, Doc Simpson gave back to his community in many additional ways. He served as a Golden Gloves physician – providing physicals before bouts and as the rink side physician during bouts. He also served as a team doctor for the Denver Nuggets for four years.