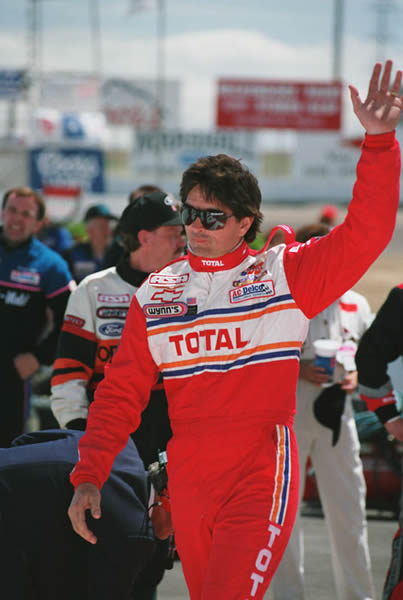 Rick Carelli started his racing career in 1973 following in the footsteps of his older brother Donnie. He won the season championship in his first full season of racing in 1975 at Lakeside Speedway.
The late motorsports commentator Larry Nuber dubbed Carelli as "the High Plains Drifter" early in his career. Nuber gave Carelli the title due to his continuous travels from Colorado competing in late model stock car events in almost all 50 states & Canada, while still competing at his home track Lakeside Speedway every Sunday night from May to August. During the final season at Lakeside Speedway in 1988, Carelli claimed dual championships in both the late model and modified divisions – and was the only driver to do so in the history of the track.
The 1989 season marked the first year of Carelli's entry into NASCAR's touring divisions when he competed full time in the NASCAR Southwest Tour Series and NASCAR Camping World West Series. After much success, his car owner, Marshall Chesrown expanded his operation to house a NASCAR Camping World Truck Series (NCWTS, formally the Craftsman Truck Series) team beginning in 1995 with Carelli behind the wheel. In 1996 Carelli scored his first NCWTS victory at Bristol (Tenn.) Motor Speedway. The following year Carelli broke through for a win at Gateway (Ill.) International Raceway.
He suffered a serious accident in 1999 at Memphis (Tenn.) Motorsports Park. The incident sidelined Carelli for nearly a year. In 2000, not knowing if he would ever compete again, a friend from Colorado, Ed Belec, asked Carelli to drive his NASCAR Southwest Tour Series Chevrolet at Phoenix International Raceway. Carelli qualified second, led every lap and won the Copper World Classic in record-setting fashion in his first race back after the life-threatening accident the year before.
Dale Phelon then signed Carelli to a one-year contract to pilot his No. 66 Carlin Burners Ford F-150 in the Truck Series. That same year he went on to win the NCWTS race at Richmond (Va.) International Raceway. The Phelon team was only able to run a handful of races in 2001, but Carelli had the opportunity to drive the No. 43 Petty Dodge Ram truck later that season.
The 2002 season became the turning point in Carelli's career, as Kevin and DeLana Harvick had just begun to build their Truck Series operation at the newly formed Kevin Harvick Inc. (KHI) in Kernersville, N.C. The Harvick's called Carelli and asked if he would drive their truck in the first race of the season at Daytona (Fla.) International Speedway. KHI made a good showing in their first superspeedway event as Carelli crossed the finish line in the fifth position after leading 16 of the 100 laps in the No. 6 KHI Chevrolet. Although Carelli hoped to drive in some additional races for KHI, he instead assisted Harvick as his spotter in the Cup Series.
As Kevin and DeLana continued to build KHI, they looked to Carelli's vast experience to assist young up-and-coming driver Matt Crafton. In 2004, Carelli served as Crafton's mentor and spotter. The following year Carelli was promoted to General Manager of KHI serving to further the competitiveness of KHI's Truck Series operation as well as to assist the Harvick's in their dream to expand to Nationwide Series competition.
Today, Carelli now solely focuses his attention on managing KHI's Truck and Nationwide Series programs, using his 30-plus years of racing experience to lead the organization on their quest for more victories and championships.