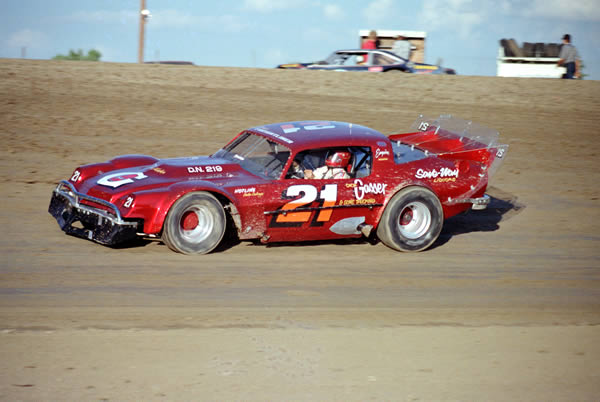 Odie Robertson began his racing career in 1960, driving a 1951 6-cylinder Chevrolet at El Cajon Speedway, which was then a dirt track in El Cajon, California.  By the late 60's he was racing at tracks around the Los Angeles area, including Irwindale, Ascot Park, and Saugus Speedway.  While driving a 1957 Chevrolet known as the "Diamond 5", he raced against notable drivers such as Roger Mears, Rick Mears, and Ivan Baldwin while finishing second in points in the West Coast NASCAR Sportsman Division.
Odie moved his family to Colorado in 1970, and continued his racing career by competing events at Lakeside, Englewood, Colorado National and Century 21 Speedways.  From that first year, until he stopped racing in 1981 to help his son Jerry begin his own competitive career, Odie split his racing time between weekly programs at Colorado tracks and big events at various tracks throughout the western United States, including the NASCAR Winston Western 500 at Riverside International Raceway.  Track records show him finishing high in the points year after year at Englewood Speedway and Colorado National–winning the most main events three years in a row, as well as the track Championship at Colorado National Speedway in 1976–in spite of not running the full local track schedule while pursuing the "Big Money" shows at out of town venues.  Other highlights include winning the first Challenge Cup race at CNS in 1975, a feat he repeated in 1980; winning the 1980 Oregon Cabin Kraft 100 at Medford Speedway, which was highest paying dirt track race in history at the time; finishing second in points in the 1980 Oregon Speedweek Northwest Tour held at tracks in Oregon, Washington, and British Columbia; and winning the 1981 Western World Championship at Manzanita Speedway in Phoenix, Arizona.
Another major move occurred in 1989, when Odie, now living in South Carolina, came out of retirement to race against some of the best dirt late model drivers in the country, finishing in the top 3 several times and winning a main event at Antioch Speedway in North Carolina.  The 1990's saw Odie racing special events at many tracks, including Colorado National Speedway, where he finished third in the Grand American Modified division at Challenge Cup XX, his first time racing on asphalt in over 20 years.  In 1999, he won the South Carolina State Championship Tour in the Limited Late Model class at age 60.  He was honored as #19 on the list of the Top 20 Dirt Late Model Drivers of All Time by Dirt Late Model Magazine in 2007, and became the oldest driver to finish in the top 10 of Colorado National Speedway's Challenge Cup at age 73 in 2012.  Odie was directly involved in one most notable events in oval track racing history in 2014, when he, son Jerry (who is also a 2016 Hall of Fame inductee), and grandson Darren became the first three-generation drivers to complete a NASCAR-sanctioned race when they competed against each other in a feature event at Colorado National Speedway.  The event gained national recognition in several news outlets and racing publications, but was not the end to Odie's career, as he has continued to compete in local racing events to this day.
Odie Robertson's career has been one of great accomplishment and numerous victories over 55 years and 28 racing seasons on both dirt and pavement tracks.  His influence on other drivers, including his son and grandson, has been substantial and a part of a legacy that now includes induction into the Colorado Motorsports Hall of Fame.