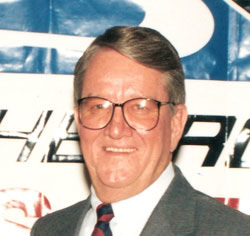 For more than 50 years Nick Sanborn was involved with the Pikes Peak International Hill Climb. He was born in the shadow of Pikes Peak in 1935, along with his twin brother Frank. At an early age the brothers constructed what they called "Chugs" and they raced down hills near their home. Nick's sister, Vera, once said their mother had a Maytag washing machine on the porch. She went out to do the laundry one day only to find out the boys had taken the motor from the washing machine for one of their cars. He became a lover of the Pikes Peak Hill Climb at a very young age and would volunteer to do anything needed including corner worker, barricade movers, and was even asked to drive a tour bus on this famous mountain.
In 1954, he and his brother built their first car which took a 5th place finish in the stock car division of the Hill Climb in 1956. Over the years he went to work for Peter DePaulo Engineering in California and the Ford Factory Race Team working on the Jerry Unser car, a Ford Team, a series ran from coast to coast. Nick started racing stock cars in the Hill Climb in 1958. He was a five-time winner of the event and took 2nd three times during his 16 years as a competitor. His last win came in the stock division in an Oldsmobile Tornado with front wheel drive.
He served as director of competition, and assistant chief steward and held membership on the board of directors for the Hill Climb. In 1987, he was appointed director of operations for the race and later became president and CEO of the organization. He was also instrumental in founding the Pikes Peak Hill Climb Educational Museum. He also was appointed community relations director for Pikes Peak International Raceway. He served as safety communicator for Championship Auto Racing Teams and represented the Pikes Peak Hill Climb as ambassador for other hill climbs in Europe and Japan. He was also a member of the board of director for the United States Auto Club. Nick "Mr. Hill Climb" passed away in 1999.