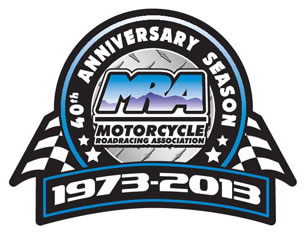 The board selected the Motorcycle Roadracing Association as the recipient of the 2013 JC Agajanian Award, honoring outstanding contribution to motorsports by an organization.
Founded in 1973, the Rocky Mountain Roadracing Association (now known as the Motorcycle Roadracing Association, or MRA) held its inaugural race at Aspen's famed "Woody Creek Raceway" in 1974, and crowned their first ever Race of the Rockies Series Champion, Woody Witte, in the Fall of that year.
2013 marks the 40th anniversary of motorcycle roadracing competition in Colorado, and the MRA continues on in the tradition with full paddocks and large race grids producing amazing racing in every race category and classification.
The MRA has produced many National and International level professional motorcycle road racers over the years, and is the home club of Colorado Motorsports Hall of Fame inductees
Bruce Sass (2005) and Donnie Hough (2012). Other notables include Daytona all-time mileage leader Ricky Orlando, World Superbike Wildcard and Electric Bike Test Pilot Shane Turpin, Bill and Doug Vickery of Vickery Motorsports, former AMA 250 GP rider Danny Walker, former AMA Superbike Rookie of the Year Dan Tuner, Yamaha Champions Riders School instructor Mark Schellinger, and multi-discipline racer and champion Mike Pettiford.
Outside of Colorado, the MRA has organized races at Motorsports Park Hastings in Hastings, Neb., and Miller Motorsports Park in Tooele, Utah. In years past they also raced at La Junta Raceway, Stapleton Motorsports Park, Steamboat Springs Street Course, Woody Creek Raceway, Second Creek Raceway, Mountain View Motorsports Park, Adams County Fairground, and Continental Divide Raceway.
Present-day MRA is a 501 (c) 7 non-profit organization which is one of the five clubs which own and operate High Plains Raceway in Byers, Colorado. The MRA holds seven race events and a racing school every year spread among the following facilities: High Plains Raceway, Pikes Peak International Raceway and Pueblo Motorsports Park. They have over 300 competition members, and routinely draw 1000+ participants and spectators to each of their racing events throughout the season.