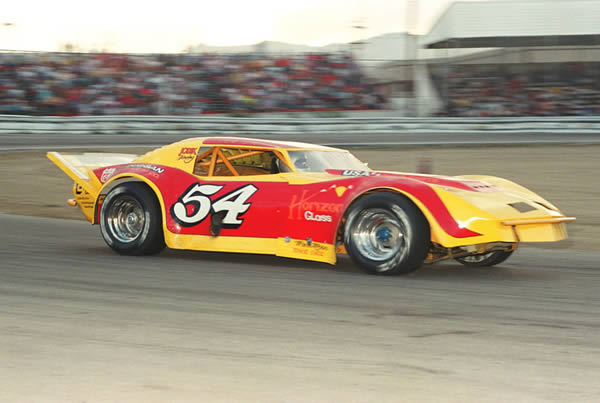 Joe James Jr. was born in Denver in 1949, and began his racing career at Lakeside Speedway, where he won a "Chug" race at age 9. A Chug required one young contestant to steer and another to provide the power to move the hand-built contraption around the track, and Joe won his first trophy as the pilot. It was the start of a long and storied racing career. At age 16, Joe bought a 55 Chevy, built a Corvette motor, and went drag racing at the Erie track, where he won two races. In 1968, his father purchased a modified coupe from Doug Plue. It was painted it in what would become Joe's signature color–school bus yellow–and the next season he "resumed" his racing career at Lakeside Speedway. He moved from the modifieds to the Late Model division in 1971, and won the first of three Lakeside championships while driving cars he built from the ground up.
In 1972, Joe had a vision of how to build new late model, taking the back half of a 57 Chevy frame and welding it to a 69 Camaro front stub. He then added a 69 Camaro body and purchased a motor from Larry Dechant. During the first race for the car in the 1973 season, Joe broke the track record and led every lap of the feature event except the last, when he ran out of gas on turn two. The next week, Joe redeemed himself by again breaking the track record, then won the trophy dash and feature event. He went on to win the 1973 track championship, and was awarded nineteen out of twenty trophies at the CARC Banquette.
In 1986, Joe built a Corvette-bodied late model, which was purchased by Dick Gossett, owner of Bell Surveying and Engineering. Dick's driver dropped out of racing and left him in a bind. After a strong recommendation from Don Wilson, Dick hired Joe to drive and build his cars. That year Joe won his second track championship at Lakeside Speedway. It was also the beginning of JODIK Racing and a twenty four year friendship that culminated in two track championships and one NASCAR championship under the JODIK logo.
In a career spanning more than forty years, Joe has accumulated numerous wins and has held multiple track records in several racing divisions, as well as four track championships while competing at tracks across the region. At Englewood Speedway, he won the Gum Ball Rally in 1975 and the 1976 Easter Seals Classic. In 1980, Joe won the Budweiser 200 at Colorado Springs International Speedway, beating a number of top local and national competitors. In 1988 he finished second in track championship points and won the Frontier Classic in Cheyenne, Wyoming. In 1994 JODIK Racing teamed with crew chief Don Wilson Jr. and won the NASCAR Winston Racing Series championship at CNS. In 1995 Joe placed second in points for that series. In 1996, Joe won a Feature in the Pro Truck series, and in 2010 he won a Feature in the CARC Mod Coupes series.
Joe's career wins are too numerous to list, but the trophies he has chosen to display and the multitude packed away speak to his incredible career. During his career Joe was offered two opportunities to move up to the NASCAR Grand National Series, but chose not to uproot his family. During his most successful years as a championship winning driver, sports writer Wendell Bull to named Joe "Denver's Mario Andretti" in a 1975 Speed Journal article. It wasn't until the late 90's that Joe James Jr. was given the name his fans today recognize, "Triple J", by Colorado National Speedway announcer Mark Moser. Joe James, Jr. has raced his way to becoming one of the more widely recognized and popular drivers in the Rocky Mountain region.