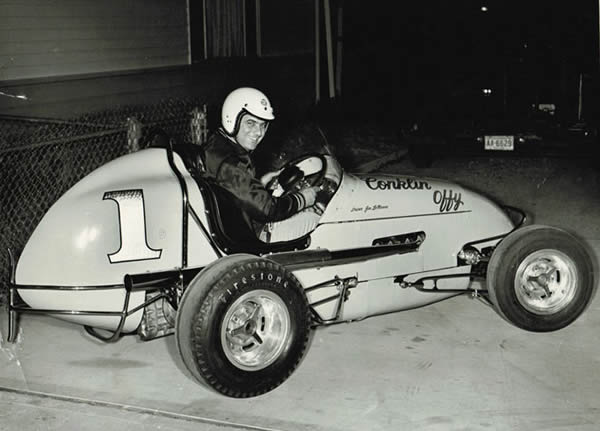 Jimmy LaManna, Sr. was born in Denver in 1932. He attended Cathedral High School. His love affair with racing began at 45th and Pecos in North Denver. There, he lived around the corner from Ralph Icovetta. Ralph had a roadsters race shop there, and Jimmy stated hanging around. Then, Ralph took Jim to Lakeside Speedway and Jim was hooked. With the help of friends, he built his first car in 1950 and began racing. He was too young to drive, so he took the name of Herkimer Snead. In 1951, he was leading the points in stock cars when his aunt recognized him and told his dad. His dad parked him for the last two races. He ended up finishing second in championship points.
Jimmy ran 1952 and 1953 at Englewood, driving Burt Blanoy's 1934 Ford #50. He was again in contention to win the championship in 1952 when he was disqualified due to his age. In 1954 and 1955, he tried his hand at three-quarter midgets. Jimmy then met Ade Butler, who owned a V8-60 midget. He then drove for Ade from 1957-1960. In 1960, Jimmy finished second to Eddie Jackson in the championship, winning three features that season.
In 1961, Jimmy and Sam Rodriguez got together and ran the #27 Offenhauser. That year, Jim had 10 feature wins, plus the Rocky Mountain Midget Racing Association Championship. He finished third in points in 1962 with Rodriguez. Jimmy also broke Roy Bowe's long standing one-lap record at Lakeside during that year.
Jimmy won his second RMMRA title driving for Harry Conklin in 1964 and 1965. In 1966, with six feature wins under his belt, Jimmy was badly burned in a racing incident. He spent three and one-half months in the hospital – ending his racing career. During his career he set several records along the way, including three championships.
He and his wife, Theresa, had two children, Jim Jr. and Lesley, five grandchildren and three great-grandchildren. In addition to racing, Jimmy also had a 39-year career at Western Paving.
Jimmy passed away in 2006.