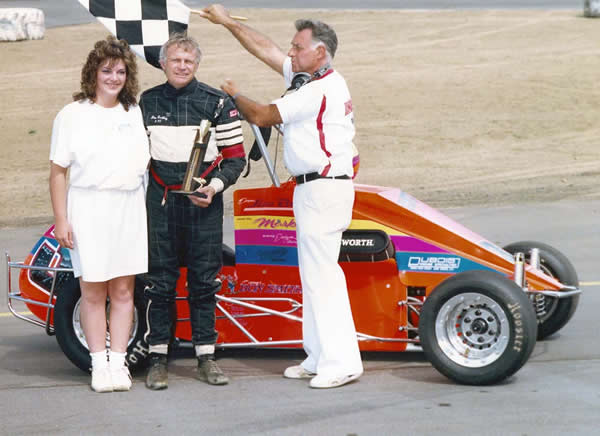 Jim Beckley was born and grew up in Englewood, Colorado. Near his boyhood home, the Malloy's had a shop where they worked on and built stock cars. While in junior high, Jim started hanging around the garage.
Jim drove his first racecar, a modified stock, at Englewood Speedway, in 1962, at age 18. He continued in that class until Frank Peterson offered him a midget ride, in 1969. Those wheels came with a V8-60, #90. They finished sixth in the final Rocky Mountain Midget Racing Association season points championship, in 1970, in the same car, but wearing the #48. Peterson then purchased a midget for the 1971 season, and Beckley finished runner up to Sammy Sauer for the RMMRA season championship. The team of Beckley and Peterson finished second again to Sauer, in 1972, but only missed the title by 30 points. Jim won his first two main events that year, both at Lakeside Speedway.
Moving over to Bob Morrison's Sesco in 1973, Jim spent most of the season running with the United States Auto Club in the Midwest. Jim finished 11th in USAC season points in 1973 and 26th in 1974. Jim then returned to Colorado and for the next 14 years Jim ranked as one of the top contenders for the annual RMMRA title. He took the crown in 1991 with Don Smith. In total, he captured 26 career midget feature victories. He also had a successful, though, relatively short, sprint car career, driving a rebuilt Curly Doggett car. He won four open competition mains at Century 21 Speedway during the limited time it was in operation.