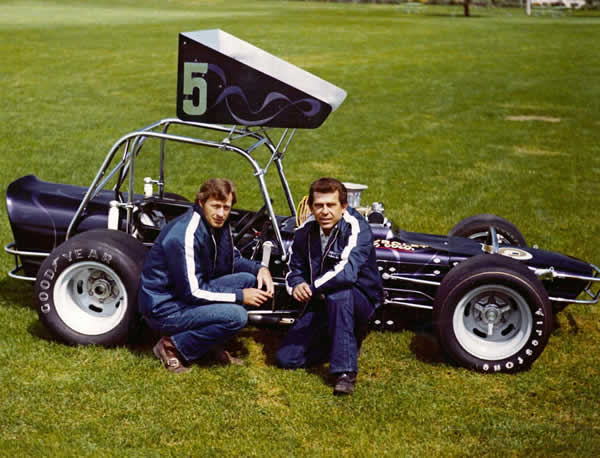 Jerry Malloy, a Colorado native, began his career in motorsports in 1955 when he built his first car, the #83. During his career, Jerry raced both open wheel and stock cars at Lakeside Speedway and Englewood Speedway.
While Jerry continued racing he soon realized, as did many others, his true gift and superior talent was in designing, engineering and building race cars. Never one to duck a challenge, Jerry built a variety of top race cars including midgets, late models, sprint cars, modifieds, super modifieds and a Pikes Peak Hill Climb car.
Notable drivers who have driven his cars include his brother, Jim, Terry Nish (Utah), Jerry Lundgren (Idaho), Joel Terry (Utah), Jim Beckley, Leo Tucker, Joe Lehman, Bob Herring (Hill Climb), Frank Denning, Roger Avants, Harold Evans, Scott Backman and Rick Carelli, to name a few.
In 1962 Jerry and his brother, Jim, began racing the Canadian American Modified Racing Association circuit with Jim driving and Jerry building and maintaining the car. In 1964 Jerry and Jim won an unbelievable 52 of 55 CAMRA main events. Together they won the CAMRA championship three of the four years in which they competed.
In addition to building race cars, Jerry was awarded the Hoosier Tire distributor business, servicing midgets, sprint cars, late models and modifieds at numerous tracks, including Englewood Speedway, Lakeside Speedway, Rocky Mountain National Speedway and Colorado National Speedway. He sold the business in 2010.
He retired from building and repairing cars in the mid 1990's when he took up the challenging sport of wild turkey hunting. Jerry holds numerous Grand, Royal and World Slam records with the National Wild Turkey Federation.
The most amazing fact is that he accomplished all of this after losing a hand at age 18 and losing a leg at age 23. Friends, competitors and fans have always admired the fact that Jerry never game in to those disabilities and did not allow them to get in the way of excelling in everything he's done.
Needless to say, whatever Jerry set his mind to, he accomplished in an incredible fashion. Jerry passed away in 2011.