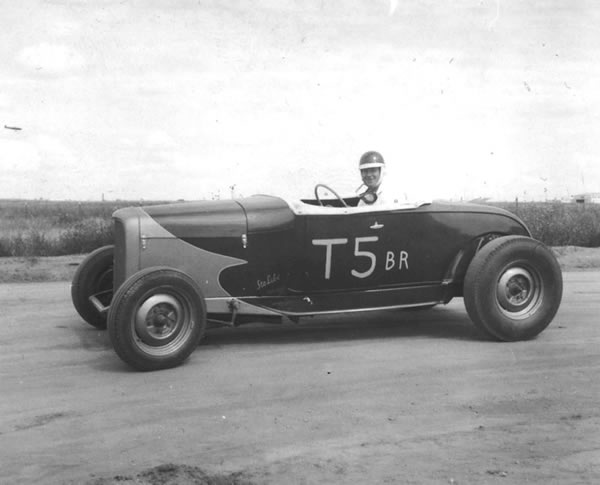 Jack Richards was born in Denver on August 8, 1921. After graduating from high school in 1939, he moved to Los Angeles, California, where he got a job at McDonnell Douglas installing instruments in DC-3's. There he purchased a '29 Model A body and frame and a '31 Auburn dash and started his roadster. He remained there until the end of the war.
He returned to Colorado in 1946 and discovered another love – motorcycles. Jack became one of Colorado's racing pioneers with both his roadster and his Harley "74".
He was a charter member of the Denver Timing Association in 1949. Jack raced on dirt circle tracks at DuPont, and at South Table Mountain in Golden, and on dirt dragstrips in Colo. Springs and Pueblo. He ran top speed races on an asphalt road south of Centennial Race Track and dragstrips in Cheyenne, Wyoming, Julesburg, Colo., Scottsbluff, Neb., and Garden City, Kansas.
Jack won the inaugural Georgetown Hill Climb and drove the only hot rod to beat the sports cars in the Lookout Mountain Hill Climb. He participated in countless motorcycle hill climbs, endurance runs and TT races, bringing home many trophies.
He competed in the 2nd annual Bonneville Nationals in 1950, and raced there through 1955 with a fuel burning flathead which was the fastest flathead in his class in 1955.
At Lowery Air Force base on May 31, 1954, Jack became the first person in Colorado to exceed 100 mph in the ¼ mile in a roadster. He was the 3rd person overall, following only the Kenz & Leslie dragster and a fuel burning motorcycle.
He raced at the first NHRA Nationals in Great Bend, Kansas in 1955 and had low ET in his class. Bill Kenz and Roy Leslie asked Jack to be a crew member with their streamliner at Bonneville. As such, he helped tune the three flatheads to a record of 272 mph in 1957.
His roadster was back at the Salt Flats in 1958 with a 347ci Pontiac. Having only a mild Isky cam and 6 Stromberg 97's, Richards ran 151 mph.
Jack was asked by the staff at CDR to help run the drag races when it opened in 1959. He classified the hot cars and motorcycles in the mornings and in the afternoon ran the street eliminator bracket. He carried out those responsibilities until 1972 when CDR closed.
Jack built another '29 roadster for Bonneville with a blown 302ci Chrysler. In 1966, he set a record in B/Gas Roadster of 183 mph. The same engine was used in his Bantam bodied altered roadster, which ran both fuel & gas at CDR, Rocky Mountain and Bandimere. In 1965, Jack and four of his friends were among the first to put their Hot Rods on the street in Denver. They were the charter members of the Denver Roadsters.
In 1981, Jack joined the Early Ford V8 Club, and joined the Flatheaders in 1991. He was also a charter member of the National Street Rod Association (1972). Jack was one of the best in Colorado when it came to building and making a flathead run. He was one of the few people to gain the full confidence of Bill Kenz and Roy Leslie. He also helped many other drag racers in the Denver area build and tune their Ford flatheads, and was still helping drag racers at Bandimere Speedway until he passed away in 2001.