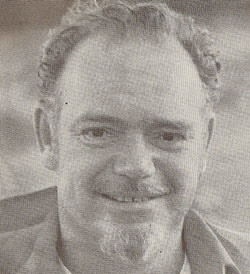 George Butland actually started running demolition derbies at Lakeside Speedway in the early '50's and went from there to late model racing at Lakeside and Englewood Speedways. He was born in China and learned to speak Chinese better than most locals. Returning from China, he took an interest in auto racing. Along the way, he bought and helped established GB Auto Salvage with the help of his son, Pete and his wife, Hilda. It grew into one of the premiere salvage yards in the State. In 1972, he bought CNS with Larry Dechant. After the 1973 season, he purchased Dechant's interest in the track. The track suffered several difficult years, but brought in the World of Outlaws Sprint Cars and was able to schedule them yearly.
In the years he owned CNS, he received four "Promoter of the Year" awards. He also had NASCAR sanction the track for 2 years. When he accidentally set off several fireworks that went amiss during the 4th of July fireworks show, the track became the hot spot for future 4th of July shows. He would intentionally miss fire the pyrotechnics and fans would go nuts.
He sold CNS in 1990, but was always around the track until he passed away. When a racer was in need it was not uncommon for this person to hand them a $100 bill. Stories about this man could fill hundreds of pages.