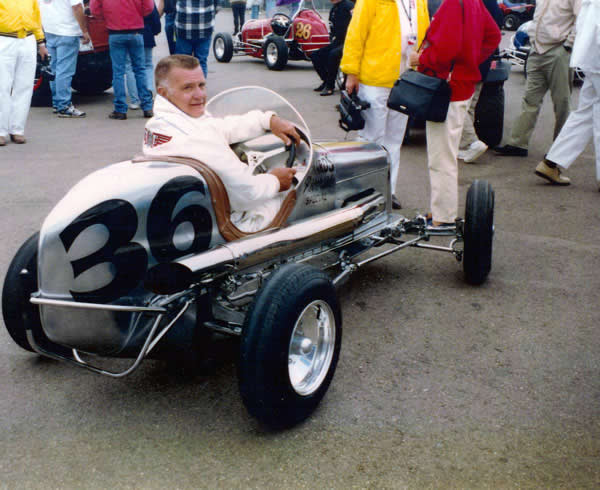 Frank's involvement in midget auto racing started in 1947. At the age of 12 Frank started helping his uncle, Pete Mahr, on their midget race car. Between taking off body panels, side plates and cam covers, he was allowed to polish the body and clean up the car. But when not removing panels, or polishing the car, Frank was watching the intense car and engine work that was part of building and racing the Offenhauser midget. HE WAS BITTEN BY THE RACING BUG! These lessons laid the groundwork for a lifetime fascination with the entire racing experience, but especially engine building.
At 15 he acquired his own track roadster. He couldn't drive it but he could own it at 15. His roadster had a Model T type body, a V8 engine and a sprint car type frame. When Frank was 17 he convinced officials at Englewood Speedway that he was 18 so that he could race it on the dirt track. He was involved in a crash and with the URGING of his mother, decided that he would not be driving anymore! His mother did offer an alternative plan and help that included a loan to purchase another car, his first midget, #50, a Ford V8-60. He's not sure he ever got around to paying her back. Frank prepared his car with great care and the first night he raced it at Lakeside Speedway the engine blew! Never one to be discouraged for long, it was "back to the drawing board." Between 1952 and 1973 Frank owned four different V8-60 race cars and raced mainly on Colorado tracks. Frank became a quality engine builder while working on these different cars.
In 1973, Bob Morrison hired Frank, along with race car driver Jim Beckley, to race the #97 Edmunds Sesco on the USAC circuit. The entry finished 11th in USAC for the 1973 season. Frank later purchased this car and it is one of five of his Vintage Cars.
In the early 1970's he started building motors for others, while still building his own. He hooked up with racecar driver Sammy Sauer in 1974. They made a deal that if Sammy would drive, Frank would be the mechanic and in 1975 they wrecked several of Harry Conklin's cars. Next they went to work for Bob Olds Motors, which seemed to go better since Bob was a body man and could repair the equipment that Sauer and Peterson bent. Frank built the motors and did the chassis work; Sauer drove the cars and Olds repaired the body damage. That year, 1977, the team produced 11 main event win and won the championship. In the early 1980's Roger Mauro and Frank owned the USAC Silver Crown car that Mike Gregg and Dave Strickland, Jr. drove.
As a car owner Frank has scored three championships. As an engine builder he's won seven championships for Hersh Racing and another two championships for Roger Mauro. He has over 60 main event wins as an owner and chief mechanic.
Thirteen drivers have driven for Frank; Joe Alspach, Speed Roberts, Ken Wilson, Kenny Franks, Jim Beckley, Sam Sauer, Mike Gregg, Dave Strickland, Jr., Dave Strickland, Sr., Keith Rauch, Eddie Jackson, Chuck Gurney, and Jack Rounds.
He has built Ford V8-60's, Offenhausers, Volkswagens, Cosworths, Sescos, Chevy II's and Esslinger engines as well as installing and tuning many engines for others. Frank currently owns the following midget race cars: the Wards #36, the #22 Elto, the #1 Edmunds Volkswagen, the #97 Edmunds Sesco, the #27 Ellis Cosworth, as well as the #12 Spike Mopar that won 5 main events in 2009. The car was driven by Keith Rauch who won the 2009 RMMRA Championship.
These cars not only define a legacy in racing for many individuals, but also represent the PASSION for racing that has spanned Frank's lifetime.