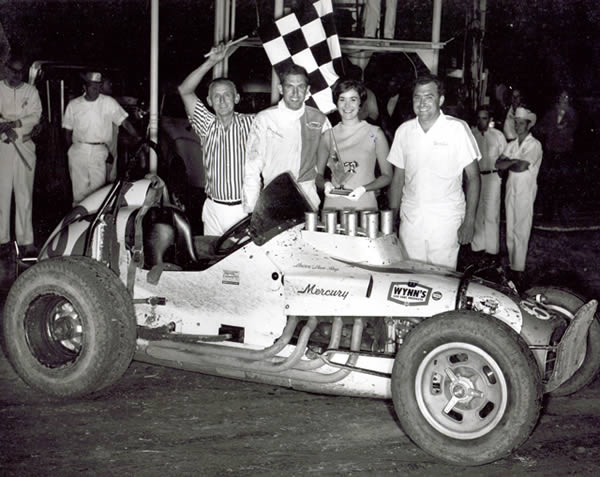 Ernie was born in Denver in 1937. His love of racing began as a youngster helping his father build and maintain a midget that ran locally. In the 50's, Ernie became involved in local racing at Lakeside Speedway and later, experienced one of his biggest racing achievements in 1959 at the Daytona 500 when he was crew chief for Fritz Wilson. They ran 2nd to Lee Petty in the qualifying race.
In the early 60's Ernie built his first sprint car; a CAE kit car with a Mercury engine. At that time, many of Ernie's friends and family knew little about sprint cars, but that would soon change. Ernie was instrumental in rallying many racers to get involved in sprint car racing. By the mid 60's, the DiCroce Brothers "67" was ready to race with first driver, Sam Sauer, and later followed by Kansas farmer, Dave Ross who drove most of the races in the 60's.
Ernie was a long time car owner and supporter of the Big Car Racing Association. He served on the board, and consistently fielded a car, traveling extensively throughout the country with his dog Shawn by his side. In the 70's, Ernie fielded a Trostle chassis with a Chevrolet engine. Friends introduced Ernie to Jan Opperman and the two became life-long friends. Jan would later drive Ernie's car when returning to racing after a serious head injury. Jan suggested Ernie give an unknown "kid" named Doug Wolfgang a chance to drive his car at the Sedalia mile. That was the beginning of Ernie and Doug's close friendship.
Some, but not all of the other racers who drove for Ernie in the 70's included, Larry Clark, Mike Gregg, Lonnie Jensen, Dick Sutcliff, Van May, Tom Corbin, Keith Heightshoe, and Buddy Taylor. Closer to home, Ernie was involved with the Rocky Mountain Midget Racing Association, wrenching Harry Conklin's midget and along with driver Sam Sauer, they were a competitive force in midget racing. Harry and local Lakeside racer, Blu Plemmons, were some of Ernie's earliest influences in racing.
In the mid 70's, Ernie turned his love of the sport into a business selling sprint car parts out of his garage. He traveled with Doug Wolfgang and Sammy Swindell to promote his business and before long, Ernie fulfilled his dream and opened AAI Speed Equipment on Lamar Street; serving all forms of racing. Ernie also was a successful engine builder and loved spending time in his engine room and attending Gaerte's annual engine building workshop. Ernie served the local racing community providing fuel and parts at events throughout Colorado. AAI became a local hub for many race teams when the Outlaws and other big races were in town. Ernie was generous and often lent parts and even engines so others could race. In the 80's when there was a car shortage at Raceland, Ernie brought out his champ dirt car with Rick Carelli to run with the sprint cars.
In the late 70's and early 80's, Ernie fielded a Stanton chassis and USAC Champ Dirt Car. Absent a permanent driver, Ernie hired various drivers including; Ron Shuman, Leland McSpadden, Wally Pankratz, and many others. In later years, two of his drivers, Joe McCarthy and Keith Rauch joined the family as son-in-laws.
Another adventure brought Ernie back to his stock car roots, spending his weekends working for Chesrown Racing with Rick Carelli running the Winston West Series.
Ernie ran AAI until 2000 when health issues forced him to sell the business. Ernie's legacy and love for racing lives on in his family, children and grandchildren. Anyone who ever met Ernie has a story to tell.
Ernie passed away in 2003.