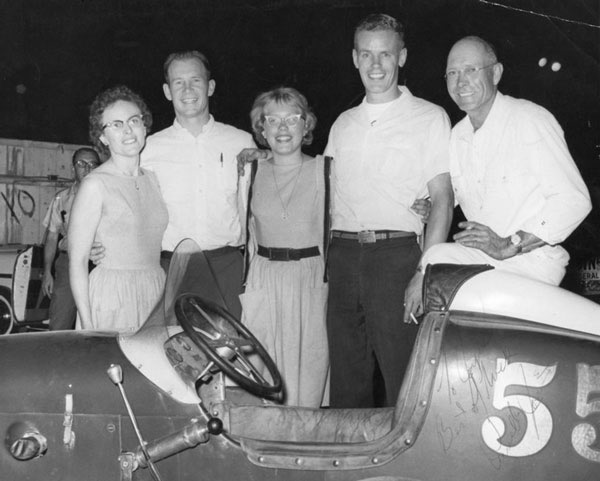 Earl Kouba began his career in a midget in 1938 by competing at Merchants Park in Denver. In 1939, he won four features and was crowned champion even though he began racing at Lakeside Speedway in August of the same season. Earl continued to race throughout Colorado until 1943, when he joined the Navy. A machinist mate, second class on an LST, Earl was in the Battle of Leyte Gulf, and also the retaking of Corregidor.
Discharged in February, 1946, he raced in California until racing reopened in Denver. At Lakeside Speedway, Earl ran forth in points in '46 and 3rd in '47, winning seven more times. The next two years Earl spent most of his time racing throughout the Midwest and the west coast. He competed at Soldier Field, where he suffered his worst crash, Walsh Stadium in St Louis, 16th Street Speedway in Indianapolis, Gilmore Stadium in Los Angeles, and Balboa Stadium in San Diego. During this stretch, the number of wins were never documented but was commonly believed to be in the 40 range.
He returned back to the Denver area in 1950 and raced there until 1966, winning the balance of his 21 total wins in Denver area midget clubs. In 1958 Earl started his "Big Car" career driving for Ray Koch, winning the first Big Car Racing Association race. That race was at the Arapahoe County fairgrounds in Littleton. He raced BCRA throughout the 1965 season finishing in the top five in points five times. Dusting off an old Kurtis Offy in 1971, Earl competed until 1980 before concentrating on helping his sons, Joe and Jim, race sprint cars.
In 1977 the Northwest Midget racing Association awarded Earl the Harry Kern Memorial Trophy for "Contributions to auto racing at all levels."
Earl passed away in 1992.