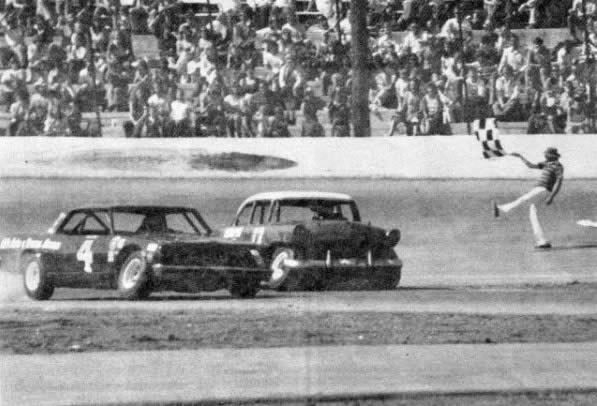 Don Styes had an interest in motorsports from an early age. He was born and raised in Englewood and was attracted to Englewood Speedway from the time it was built, first as a spectator, then as a racer and later through many official capacities.
In 1953, he was on the pit crew for car number 74 and tried his hand as a driver. Once he was involved in an accident and rolled a car from turn two and nearly the length of the back straight. This mishap did not dampen his spirit. The next year he and Bob Weeks became co-owners of car 73. Don drove the car and shared the mechanical duties with Bob. This partnership lasted two years, but the demands of work and being a father took their toll and resulted in the pair selling the car. Later, he returned to being a co-owner and driver of car number 74, this time with his brother-in-law, Bill Nordeen. This endeavor was also short lived, lasting just one year.
After his career as a racer, Don continued to support racing and remained a part of the racing scene. For many years, he performed various roles in the Rocky Mountain Stock Car Racing Association (RMSCRA) and Englewood Racing Association (ERA). Later, he went on to become a well-known flagman.
In the RMSCRA, Don was hired as a judge, Executive Secretary, Treasurer and was elected President three times. As President he introduced the use of Robert's Rules of Order for all meetings. In 1960 he was instrumental in guiding the organization through all the changes that occurred after the track was paved.
When ERA was formed in 1965, Don was elected President four times (1968, 69, 71& 75) and continued to lead the organization through the changing times of the ever-evolving modified cars and the figure-eight cars. While both divisions became faster, he continually worked with board members and tech committee members to increase safety.
Milestones of his leadership included ensuring there was little delay between events at each race and making sure each segment of the show was carried out with efficiency and professionalism. He also strived to make sure RMSCRA and ERA were well represented at public events, primarily the Saber's Hot Rod Show and the St. Patrick's Day parade. Another of his priorities was to continually work with the Denver Post and Rocky Mountain News sports department writers to gain recognition for local racing. His work proved beneficial as several articles featuring owners and drivers were published in the newspapers.
Following his driving career and officiating careers, he went on to become one of the most well-known flagmen in Colorado motorsports and was recognized for his no-nonsense attitude and showy style. He flagged races featuring motorcycles, midgets, modifieds, late models, figure-eights, chargers and mini stocks. He served as a flagman for Englewood Speedway, Lakeside Speedway and Colorado National Speedway.
Don passed away in 1995. His example of sportsmanship, fairness, integrity – and of course his eye for safety – continues throughout his family's racing endeavors and commitment to the racing community. Don is a recipient of the 2013 Jerry Van Dyke Memorial Award.