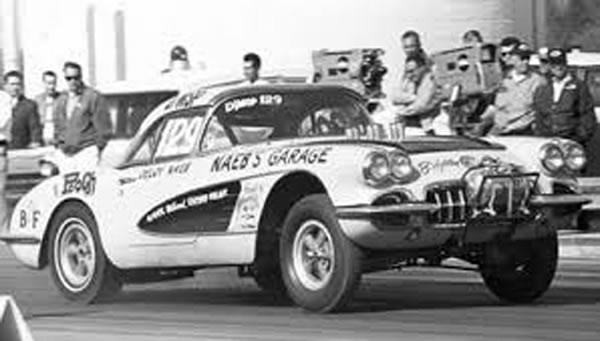 While growing up in Brighton Colorado, Deloy and Herb Naeb spent countless hours in the auto repair shop operated by their dad, Reinold Naeb, who was also a participant in weekly local dirt track racing events. Deloy and Herb traveled with Reinold to the dirt tracks, and Denver's Lakeside Speedway was their "home" track. Deloy began racing his own dirt modified in 1952, an effort that led to a sponsorship by Denver's Viner Chevrolet in a 1955 Chevrolet dirt late model. Saturday night dirt racing usually resulted in Deloy returning home with a trailer full of muddy, broken parts. After several years, Deloy decided to focus his after-hours efforts on the up and coming drag racing scene.
Deloy began campaigning a 1955 Chevrolet locally in the C/MP class in the early 60's. In 1963, he heard of a well abused, wrecked, partially complete 1958 Corvette stored in a shed not far from home, and he purchased the car. Deloy's best friend, Keith Hitner, then proposed that they name the Corvette "The Pooch". The Corvette was raced in the C/MP and D/MSP in the 1965 through 1968 racing seasons with few changes, winning the N.H.R.A. World Street Eliminator title in 1966. The car was retired from competition in the late 1960's, while Deloy owned and operated Rocky Mountain Dragway in Denver, Colorado. The car then accompanied Deloy in his move to Tejeras, NM, where it was sold and stored for 30 years. The car was located, purchased and a complete restoration was finished in 2013.
Some of the "Pooch's" and Deloy's notable history include:
Perennial NHRA division class and street eliminator winner.
NHRA D/MSP national record holder —- ET 12.69
NHRA D/MSP national record holder —- MPH 109.94
First NHRA division 5 car to win one of four annual national events
Winner of class and Street Eliminator title at the 1965 NHRA Tulsa Invitational meet.
Winner of class and World Street Eliminator title at the 1966 NHRA World
Championship Finals
Participated in one of the first nationally televised drag racing events with Keith
Jackson, Steve Evans, and Bernie Partridge covering for Peterson Publications.
Received HOT ROD MAGAZINES 1966 TOP TEN racer of the year award.
Class winner NHRA Pomona Winternationals 1968.
Numerous national magazine features as well as extensive National Dragster
Deloy was inducted into the NHRA division 5 Hall of Fame in January, 2014.
"The Pooch" received the coveted NCRS American Heritage Award for the
preservation of a historically significant piece of Corvette history in July, 2014.
A great friend was lost on November 28, 2014 when Deloy passed away at his home in Tijeras, NM. His outstanding accomplishments and contributions to drag racing are recognized with his induction into the Colorado Motorsports Hall of Fame, class of 2015.