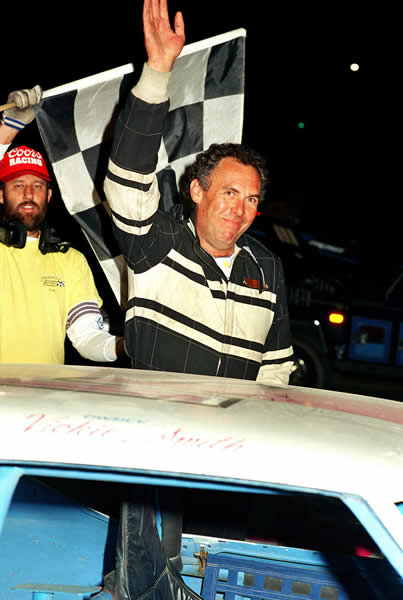 Dave Tansey was born November 1st, 1943 in Newton, Iowa, and moved to Lakewood, Colorado at age twelve. His first experience with racing was going to Lakeside Speedway while he was in his late 20`s. After a next door neighbor invited Dave to the races at Englewood Speedway one night during the first year for Figure-8 racing at the track, Dave knew that driving a Figure-8 car was what he wanted to do; he was hooked.
After a couple of years of building and driving his own cars, Dave was offered a chance to drive for Tom Eller for one year. Tom kept his car at Baltic Auto, which is where Dave met Darrell Smith. The next season Darrell built two cars: Bobby Jackson drove the # 2 car while Dave drove the # 3 car that was Bobby`s back-up. When Jackson eventually moved to the Late Model division, Dave became the driver of the # 2 car that Jackson had made so popular and famous. Dave drove that car for five seasons, racing on Saturday and Sunday nights, and never finishing out of the top six in Figure-8 division points. In 1976, Dave won six trophy dashes in a row, as well as the most main events for the season.
In 1989, Dave again teamed with Darrel Smith, and together they won the first ever Figure-8 race held on the newly-paved Colorado National Speedway oval, as well as the first championship for the division at the track. Dave retired from racing after winning that championship, but his love for racing did not end. He continues to attend races as a spectator and fan, and remains a well-respected member of the racing community.
During his career, Dave won over 75 races. He is quick to say that he owes his success in racing to great car owners like Tom Eller, Carl Puglise, Butch Orzalac, and most of all, Darrell Smith. Dave also says he owes much to his mentor and great friend, Bobby Jackson, from whom he learned so much about driving a race car.