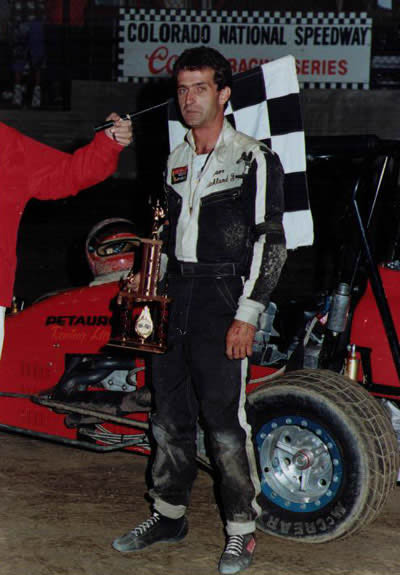 Dave Strickland Jr., also known as "Kid Strickland" until he won his first championship, started racing Midgets on May 21, 1977. His career lasted through 2004. He is the son of USAC Midget star, three-time Rocky Mountain Midget Racing Association Champion and 2004 Colorado Motorsports Hall of Fame inductee Dave Strickland Sr.
Dave Jr's desire to drive race cars came at a young age as he and his sister Sabrina traveled all over the world to watch their father race USAC midgets, sprint cars and Indy cars.

Dave Jr. raced for a number of very well known car owners during his career locally and national. The list includes Colorado owners Richard Kaylor, Del Melching, Roger Mauro, Dave Williams, Petauro Racing, Ken Heffner, Vern Shaver, Lonne Smith, Danny Montini, Harry Conklin and Pat Myers. National owners were Dave Ellis, Don Welch, George Zarounian, Terry Klatt, Tempe Jim Williams, Terry Caves, Tony Passeralli, and Bob Bower. In Australia Dave Jr. drove a midget for Ross Kiehne of Australia.

Following in his father's footsteps in midget racing; Dave Jr. also won three RMMRA Season Championships driving for Petauro in 1986 and two RMMRA Season Championships driving for Terry Klatt in 1992 and 1998.

Dave Jr. raced sprint cars with the World of Outlaws, California Racing Association, Sprint Car Owners of Arizona and All Star Association. His first year in a USAC sprint car was in 1988, while driving for Sid Blandford. In this first year, he won USAC "Rookie of the Year" and the USAC Sprint Car Season Championship. His second USAC Sprint Car Season Championship was won in 1990 driving for Mick Dyer. Dave also drove sprint cars for Donny Young, Harry Conklin, Bill Hardy and Bill Gibson.

In his midget racing career Dave Jr. won 59 total A-Features, including 53 RMMRA, four USAC in Colorado and two AIMS events. 

Dave Jr. was inducted into the Bellville High Banks Hall of Fame in 2005. He was awarded a lifetime member award in 1986 by the RMMRA.