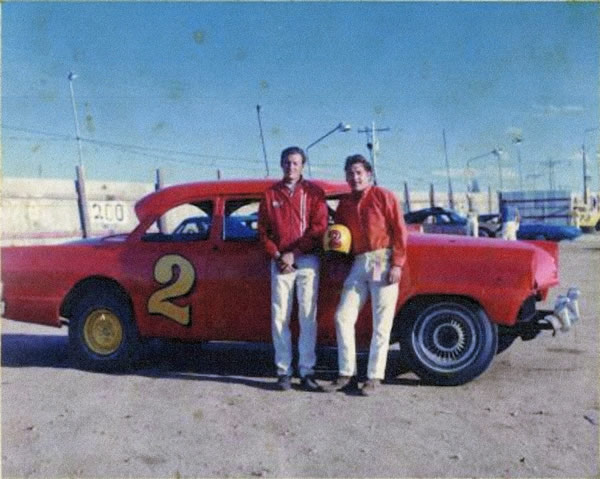 Unlike other racing champions, Darrell Smith didn't come from a racing family background. Fresh out of High School, and with the encouragement of Hall of Fame Member Wayne Etter, Darrell tried Drag Racing and found it wasn't his cup of tea. After serving in the Army from 1960 to 1963, he visited Englewood Speedway with his friend Bill Schouten to watch the Figure 8's, and he fell in love with this type of racing. Two weeks later he built his first Figure 8 car, with which he earned just $5.00 for the season.  After this not-so-impressive start, Darrell's passion for figure-8 racing pushed him to become a top car owner, builder, sponsor, crew chief, driver and award winner while competing at Englewood Speedway, Lakeside Speedway, Rocky Mountain Speedway, I-76 Speedway, Colorado National Speedway, Pikes Peak International Speedway, Century 21, Continental Divide Raceway, Colorado Springs International Speedway, I-25 Speedway and Colorado Motor Sports Park, as well as many tracks out of state.
Darrell was the 1971 Charger Champion at Englewood Speedway, 3 times Enduro Champion at I-76 Speedway, had 13 wins in Demolition Derby, and was chosen Fan Favorite at Englewood Speedway six times.
Darrell has sponsored and given a seemingly endless number of drivers their start in racing through the businesses he has owned, including Baltic Auto Wrecking, Arvada Auto Wrecking, and for over 30 years, Mr. Badwrench Used Auto Parts.   Darrell has won many awards including: 1992 NASCAR Gold Wrench Award, 1992 Car Owner of the Year Award at Colorado National Speedway (CNS), 2003 Carol Asbury Overall Sportsman Award, 3 time Sportsman of the Year, and 2014 Overall Sportsman of the Year at CNS.  As a car owner and crew chief, he was Claimer Champion with Tom Alexander at Englewood Speedway, 1967 Figure 8 Champion at Englewood Speedway with Bob Jackson, 1989 Figure 8 Championship with Dave Tansey at CNS, and 1991 Figure 8 Championship with son Mike Pratt at CNS. He also served as Owner/Crew Chief for Richard Burton in the Grand American Modified division, Crew Chief for Mike Pratt's Southwest Tour, Late Model and Figure 8 cars, and Crew Chief for Emett Grazier's Super Late Model.  Racers who have driven for Darrell include: Bob Jackson, Mike Pratt, Chuck Tuffield, Ray Slife, Pete Brandenburg, Dave Tansey, Tom Alexander, Mike Craig, Anthony Martinez, Rodger Burnett, Dale Deter, Roger Avants, Richard Burton, Harry Livermore Sr., Craig Moore, Allen Batt, Greg Carroll, Lance Newman and Sean Smith.
Throughout Darrelll's career, his crew members were his family and friends that became like family, and three of Darrell's crew members have won Gold Wrench Awards. Darrell has participated in many special events to support racing, and has enjoyed a 45 year racing career with near perfect attendance of weekly programs. He is always quick to help someone in need, and has always seemed to have a line of people at his trailer borrowing parts during a lifetime of competition. Darrell passed away September 2018.