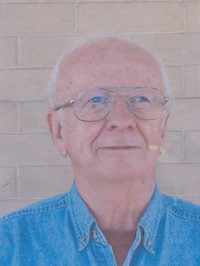 Born and raised in Denver, Danny Collins was a fourth generation Colorado citizen. Collins successfully raced sports car and single-seat Formula cars for 50 years, including two years in England. In England, Collins was trusted to campaign a factory-owned Chevy Corvette in the 1962 Tourist-trophy at Goodwood, England, beating two World Champions in the process.
Over the years, he raced Alfas, several Ferraris, a Mercedes-powered Special, Porsche, and a wide variety of single-seat Formula and two-seat racecars. He trained and coached more than 3,000 race drivers, including Indy drivers Buddy Lazier, Greg Ray, Buzz Calkins, and many other champions on the professional and amateur levels. Danny designed many race tracks, including a 3.3-mile track at Stapleton, the 2.6-mile Continental Divide Raceway, formerly located at Castle Rock, the 1.7-mile Second Creek Raceway in Denver and the 1.55-mile Airport Circuit in La Junta, Colorado. He also consulted on the design of many other tracks, including the Ginger Man racetrack in Michigan.
He also designed and built Formula Ford and F-Continental race cars, as well as creating an entirely new Formula Junior racecar to fill the need for a new high performance, low cost race car for beginners. He co-founded and edited a car magazine in the 1960's, Rocky Mountain Steering Wheel and edited Redline Express and Redline Chronicle, the official publication for the Colorado region, Sports Car Club of America, which was distributed to more than 1,400 members in eight western states.
He also was appointed to the Sports Car Club of America's Public Relations Committee and served as SCCA's first Director of Licensing and Training, where he set up guidelines for SCCA's Club Training Schools. He also served as a Director for the Colorado Region Sports Car Club of America and Rocky Mountain Vintage Club.
He passed away shortly after his induction into the Colorado Motor Sports Hall of Fame in 2004.