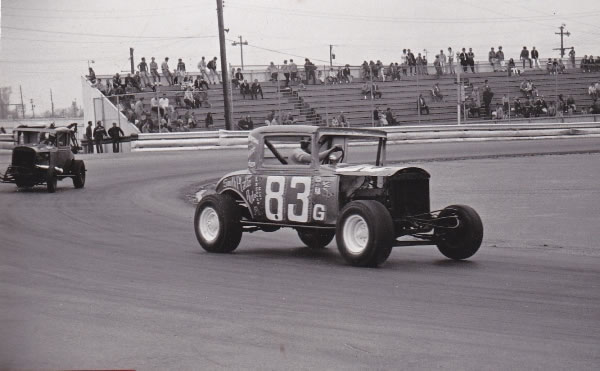 Clarence Krieger, a life-long resident Garden City, Colorado, made quite a name for himself "turnin' left" at tracks throughout the northern Colorado region. Clarence, who was nicknamed "Tiger", started racing in the early 1950's.  For over thirty years, Clarence raced primarily at Lakeside Speedway in North Denver and Intermountain Speedway in Cheyenne, along with many stops at other area tracks. Tiger would often be in the field at when Longmont, Greeley, and Fort Collins had tracks.  Many· nights between races were spent in his one car garage working his race car along with many faithful friends and several cases of beer. The car was loaded and always ready to go with family and crew to Cheyenne on Saturday and Lakeside on Sunday.  He was one of the few drivers who would tow two cars to the track in order to race in both modified and late model divisions.
Clarence has won several championships during his career, including a Tri-State title for wins in Wyoming, Nebraska and Colorado. He is most proud of his many perfect attendance awards at both Lakeside and Cheyenne, and was awarded Lifetime memberships with the Wyoming Auto Racing Club in 1968 and CARC in 1974.  He was inducted into the Hall of Fame for both clubs in 2010.
While on-track performance has defined his racing career, Clarence contributed to the sport by guiding and mentoring young drivers just starting out, including Chris Leaf, who went on to become one of the winningest drivers at Colorado National Speedway in pro truck, Grand American Modified, and Late Model divisions.  He also has fond memories when then "up-and-coming", as well as established racers like International Motorsport Hall of Fame inductees Bobby Allison, A.J. Foyt, and Hershel McGriff competed in the area and worked on their cars in his garage.
Today, pictures of his first race car–a 1935 Chevy sedan with a 216 6-cyllnder motor–hang from· the walls in his garage, along with other photographs of a youth spent stock-car racing and 100's of his trophies.  After more than 60 years of involvement, Clarence Krieger still has the passion for and dedication to racing.  He can be quoted as saying he would not have had the many successes and great memories in racing if not have been for his family and many friends that were there for him every day, along with great sponsors that he maintained strong relationships with for over thirty years.  Clarence passed away in September, 2020.