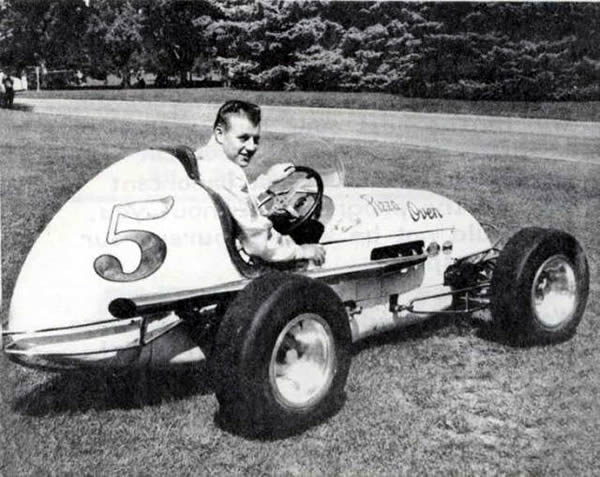 Eddie Jackson, a Colorado native, started his racing career in 1951 driving stock cars at Englewood Speedway. He raced there through 1955. In 1956, Jackson purchased the famed Number 5 midget race car from Lloyd Axel. Doing all of his own mechanical work, both engine and chassis, he scored his first feature win that same year at a Colorado Auto Racing Club midget race at Lakeside Speedway.
Eddie passed his driver's test at the Indianapolis Motor Speedway in 1959, driving a car owned by Denver's Bus Osborn. He was scheduled to run the car, later in the year at Milwaukee, but was seriously injured in a race at Peoria, Ill., and hopes on an Indy car ride were gone. Jackson returned to Colorado and won his first Rocky Mountain Midget Racing Association championship in 1960, followed by championships in 1962 and 1963. He then joined a new midget racing series at Englewood Speedway, which eventually failed. In 1967 he was once again running under the RMMRA banner. He had sold his car to Vern Shaver then as Shaver's driver, won championships in 1967, '68 and '70.
Highlights of Jackson's career included winning the inaugural Belleview Midget Nationals in 1978, the Intermountain Midget Championship in Salt Lake in 1958, the Houston Midget Grand Prix in 1980 and the Big Car Racing Association Championship in 1963. He scored 77 feature wins in RMMRA events and drove for a number of notable car owners, including Vern Shaver, Harry Conklin, Chuck Mauro, Ray Koch, and Frank Peterson.
Eddie was very badly injured in a midget race in Las Vegas in 1982. He never fully recovered and passed away in 1983.