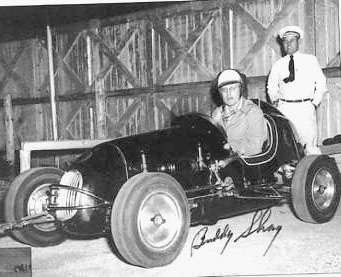 Buddy Shay was born in Ohio but spent most of his formative years in Indiana. His older brother, Vic, bought a midget race car and decided to take it to races in Kansas City and Denver. In 1939 Shay left Indiana, worked in Chicago and then went to visit his brother in Denver. Then, he decided to stay in the Mile High City as he had already made up his mind he wanted to drive midgets.
In his first ride, Shay qualified last and finished last in every race we was in, but he stayed with it and was much improved by the end of the season. In 1940 he bought what he called a junk yard special, a V-8 60 with a model T frame, for $160. He found out that an Arizona promoter was paying appearance money of $7.50 a week so Buddy was off to Arizona along with Vic. Shay got ride in another car so Vic drove Buddy's machine and they did well enough that they stayed there for about a year.
In 1941, Buddy bought a midget chassis and with several friends tried to put a V-8 60 engine in the car, but it wouldn't fit unless they put it in upside down, so that's what they did. After solving a multitude of problems they finally got it to work. It looked weird but handled and ran well. The car was featured in a recent edition of Speed Sport News. Unfortunately, Vic was fatally injured when we wrecked that car in July 1942 at Lakeside Speedway.
Shay was in the Army Air Force during World War II, returning to Denver and midget racing after his discharge. In 1946 Buddy drove a car that sometimes he owned and sometimes Ray Koch owned. By 1947 the car, totally renovated, provided Shay with his first three feature wins.
In 1948 Buddy was assigned the Buzz Bussard Offy-powered car and won at least 14 main events in it that year and also ran against the best there was at Soldiers Field in Chicago. The then drove for Morris Musick for the next two years, taking seven feature races, including the last three races at Lakeside Speedway in 1950. Returning to the Bussard midget in 1951, he finished second in a tight and disputed contest for the RMMRA Championship.
Shay won two features at Denver Midget Club events in 1952. Before retiring in 1954, Buddy won 30 feature races under the RMMRA banner alone, not counting many others under different banners. Track announcers couldn't pronounce Buddy's last name, which was Schey, so early on he changed it to Shay. Whether it was an asphalt track or dirt track in Colorado, Arizona, New Mexico, Utah and numerous other states, Shay was a winner wherever he raced.