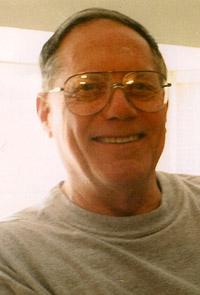 Bill Hill was born in Kansas City, Missouri in 1930. Before coming to Denver, he served as a Paratrooper with the 187th Airborne Regimental Combat Team from 1950 to 1953 and is a Korean War veteran. He then attended the University of Illinois working on majors in Journalism and Business. Arriving in the Mile High City in the late 1950's, he became a sales representative for several large national companies.
He served, for a brief time, as public relations director for J.C. Agajanian Enterprises in 1966, before becoming the Rocky Mountain Regional Sales Manager for a national cosmetics company. In 1972 his motor sports career really began when he became the assistant news director for the United States Auto Club. Previously, he had announced at a number of race tracks in the Denver area, as well as tracks in New Mexico, Nevada and Oklahoma. He also served as PR director for the Pikes Peak Hill Climb and several Denver area race tracks and racing organizations, as well as hosting several radio shows in Denver.
In 1973 he joined Don Smith Enterprises, a very successful racing promoter. There he worked on administration and race-day operations for the company. He also handed publicity for the Terre Haute Action Track and the Indiana State Fairgrounds' racing events. In 1982 he became General Manager of the Devils Bowl track in Houston and then moved on to be public relations director and promoter at the Tulsa and Muskogee, Oklahoma race tracks. He did the PR for the first World of Outlaws race staged in Dallas in 1978. In 1985 he formed his own company, Bill Hill Productions, which provided PR and promotional services for a number of race tracks across the country.
He then became a Senior Account Representative for K&K Insurance and then a Risk Manager for Las Vegas Motor Speedway and Pikes Peak International Raceway until his retirement in 1995.
Bill has also written and published two outstanding books on racing, Midget Racing in America's Heartland and Midget Racing in the Rocky Mountains. He was inducted into the National Sprint Car Hall of Fame in 1995 and also sits on the organization's Board of Directors.