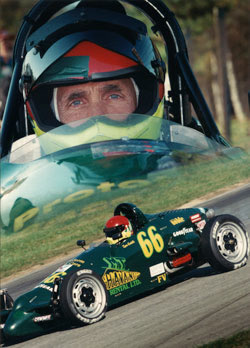 Zan attributes his being a motor head to his father. His father rode motorcycles, flew airplanes, loved cars and passed the wonderful world of "wheels" on to Zan.
While in high school and college Zan had a job with a local foreign car dealership where he got to drive new vehicles from the warehouse in Fort Worth, Texas to his hometown of Lubbock, Texas. At this point, he quickly fell in love with sports cars.
Scraping up $900 to buy a 1959 Austin Healy Bugeyed Sprite, the windshield and all the extras were soon gone and numbers were on the side. After completing a driving school at Rattlesnake Raceway he was on the road to 50+ years of racing.
After completion of college, Zan moved to Colorado, and combined a teaching career with motorsports. He competed in his first race in 1967 at Continental Divide Raceway in a Lotus Super 7.
Leaving Colorado behind for a year in 1970 to move to London, England the racing continued with a new Merlyn Formula Ford. It was great, competitive racing with Formula Ford Fields of 30 to 40 cars in each race. He enjoyed the racing, especially with a large US Flag on the side of his helmet.
Upon return to Colorado, Zan competed in Formula Ford races throughout the country. While racing Formula Ford, his sponsor at the time decided to go racing himself, so he bought two Formula Vs. Both cars ended up in Zan's garage and he told him to start racing one of them. So the era of racing both Formula Ford and Formula Vs began.
Zan was then asked to drive a brand new prototype Predator Formula V in a Sports Car Club of America national race. He did and he won. After which, a long relationship began with Darrell Baily. They built engines and race cars and sold 25 race cars, with some going as far as South Africa.
Zan was then asked by the SCCA in 1989 to become president of SCCA Enterprises to stimulate the company and continue sourcing parts and building kits for the very successful Spec Racer (Sport Renault) race car.
After two years with SCCA Enterprises (while racing Sport 2000) Zan returned to Colorado Springs and was no longer involved with Spec Racer as a profession, but began racing Spec Racers.
Around 2000 a new class, called Formula Mazda, was growing quickly in SCCA. Since Zan was always drawn to a class with large fields and tough competition this seemed to be the way to go, although he did not abandon Formula V. So it was again a two class car entry. Charlie Seffrood became his crew chief and has remained to the present. The Formula Mazda served as his race car as Zan's racing career began to come to an end.
A couple of years ago after winning a race, Zan decided to retire from racing while on the top and in one piece.
To recap his racing career is nearly impossible. Zan amassed 21 national wins and 30 regional wins in the SCCA Formula V class, six national and 12 regional wins in the SCCA Formula Mazda class, four national and 10 regional wins in the SCCA Spec Racer class and two national and 10 regional wins in the SCCA Formula Ford Class.
He was also named "Motorcycle Rider of the Year" after competing in the Baja 7-day race, rode in the infamous Colorado 500 10 times and was named a "Pacesetter" in Sport Car Magazine.